"Chaos Reigns" in "Antichrist," "Scott Pilgrim" Rules, and More New DVDs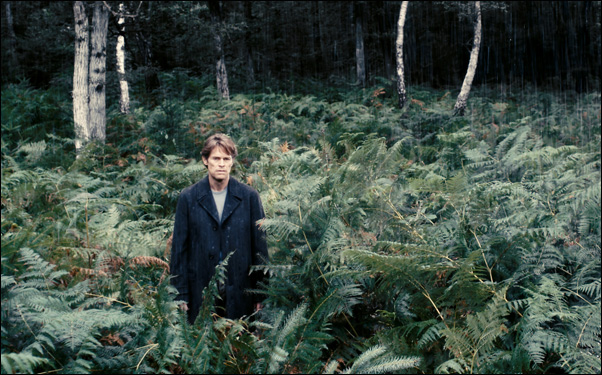 Posted by Stephen Saito on
A look at what's new on DVD today:
"Antichrist" (2009)
Directed by Lars von Trier
Released by Criterion Collection
From its incendiary debut at Cannes to becoming a cult hit defined by the meme "Chaos Reigns," Lars von Trier's psychosexual horror film about a married couple (Willem Dafoe and Charlotte Gainsbourg) that repairs to a cabin in the woods to grieve over the death of their young son is receiving the Criterion Collection treatment. Video interviews with von Trier, Gainsbourg, and Dafoe, making-of vignettes and a documentary about the Cannes premiere accompany the feature. (Aaron Hillis' interview with von Trier is here.)
"The Battle of River Plate" (1956)
Directed by Michael Powell and Emeric Pressburger
Released by Hen's Tooth Video
Despite being Michael Powell and Emeric Pressburger's most financially successful film, it has been a rare commodity in America on home video, where people have had to buy the British edition of this Peter Finch 1956 war film to place alongside "The Red Shoes" and "Peeping Tom." Hen's Tooth Video fixes all that with a new release.
"Boiler Maker" (2010)
Directed by Paul Murray
Released by Hannover House
John Savage stars in this thriller where an Alcoholics Anonymous meeting is invaded by two bank robbers who take the group hostage.
"The Brazen Bull" (2010)
Directed by Douglas Elford-Argent
Released by Virgil Films and Entertainment
Michael Madsen, the busiest man in showbiz, at least in direct-to-video land, continues his 2010 hot streak playing a madman who terrorizes a young couple in an L.A. high-rise. Rachel Hunter co-stars.
"Charlie St. Cloud" (2010)
Directed by Burr Steers
Released by Universal Home Video
In this adaptation of Ben Sherwood's novel, Zac Efron contends with the memory of his dead brother as he tries to start a new relationship with a young woman (Amanda Crew) and attempts to move on with his life. Ray Liotta and Kim Basinger co-star.
"The Chosen One" (2010)
Directed by Rob Schneider
Released by Xenon
Rob Schneider can't catch a break with his directorial efforts, seeing as though his 2007 comedy "Big Stan" also debuted on DVD, but he does corral notable names to star in them with a cast that includes Steve Buscemi, Holland Taylor, and Peter Riegert for his latest in which he plays the car salesman who is visited upon by a group of South American shamans that insist he is the prophet to can make it snow on their mountain and thus end a draught.
"Compulsion" (2009)
Directed by Sarah Harding
Released by BFS Entertainment
"Bend It Like Beckham"'s Parminder Nagra faces the unappealing choice of spending her life in an arranged marriage or spending one night with her family's driver (Ray Winstone) who can help her escape her fate in this British drama.
"Damned by Dawn" (2009)
Directed by Brett Anstey
Released by Image Entertainment
A veteran of Sitges and Frightfest, this horror flick from writer/director Brett Anstey pits a family against the undead to save their spirits from being eternally damned.
"David's Birthday" (2010)
Directed by Marco Filiberti
Released by Wolfe Video
Marco Filiberti's drama concerns a psychiatrist (Massimo Poggio) away on vacation with his wife (Maria de Medeiros) and another couple and becomes infatuated with their friends' teenage son (Thyago Alves).
"Dead Enders" (2010)
Directed by Paul C. Hemmes
Released by R Squared Films
Paul C. Hemmes' horror flick centers on a widow (Christie Collins) whose search to recapture her dead lover leads her to imprison and torture men she believes to be his spirit incarnate, but one man attempts to escape her clutches.
"The Dry Land" (2010)
Directed by Ryan Piers Williams
Released by Maya Entertainment
First-time director Ryan Piers Williams recruited his real-life leading lady America Ferrera to play the wife of a soldier (Ryan O'Nan) who returns home to Texas after a stint in Iraq and struggles to readjust to civilian life. "That '70s Show"'s Wilmer Valderrama stars as an army pal who can commiserate in this drama, which also co-stars Melissa Leo and Jason Ritter.
"The Four-Faced Liar" (2010)
Directed by Jacob Chase
Released by Wolfe Video
Two twentysomething couples brought together by a chance encounter in a bar end up becoming intertwined when the girlfriends of the quartet become interested in each other in Jacob Chase's dramedy that played earlier this year at Slamdance and was an Outfest Audience Award winner.
"Grown Ups" (2010)
Directed by Dennis Dugan
Released by Sony Pictures Home Entertainment
Adam Sandler gives his pals an excuse to get paid for a vacation in this comedy which reunites '90s "Saturday Night Live" alumni Chris Rock, David Spade, Rob Schneider and Colin Quinn, as well as Kevin James, for a weekend in the woods, brought together by the death of their youth basketball coach.
"Hunt to Kill" (2010)
Directed by Keoni Waxman
Released by Anchor Bay
Steve Austin and Eric Roberts apparently had unfinished business to tend to after "The Expendables," co-starring in this action thriller about a Border Patrol guard (Austin) who is co-opted by a group of thieves to navigate them through the forest until Austin realizes, of course, he can kick their ass and proceeds to flip the script.
"I Knew It Was You: Rediscovering John Cazale" (2010)
Directed by Richard Shepard
Released by Oscilloscope Laboratories
Richard Shepard's documentary about the only actor ever to appear exclusively in films nominated for Best Picture — "The Deer Hunter," "Dog Day Afternoon," Francis Ford Coppola's "Godfather I & II" and "The Conversation" — yet never nominated for an Oscar himself gets his due in this 40-minute documentary with interviews with one-time fiancée Meryl Streep, Al Pacino, Robert De Niro, Steve Buscemi, Gene Hackman and more.
"Jaffa" (2009)
Directed by Keren Yedaya
Released by Film Movement
Keren Yedaya's drama tells of the Israel/Palestine conflict through the romance between the daughter of an Israeli mechanic and the mechanic's employee from Palestine who plan a clandestine wedding together until her brother sets out to ruin their plans.
"Jean-Michel Basquiat: The Radiant Child" (2010)
Directed by Tamra Davis
Released by Arthouse Films
While "Half Baked" director Davis has spent much of her time of late working on a culinary career, she spent years cooking up this doc on her friend Basquiat, the fast-rising neo-expressionist artist who died much too young at the age of 27. Featuring rare interview footage Davis captured of the Brooklyn-based art sensation during the height of his popularity before his death in 1988, "The Radiant Child" also includes new interviews with Julian Schnabel, Fab 5 Freddy and Larry Gagosian that help illuminate Basquiat's struggle against and ultimately his influence on the New York art scene of the '80s. (My interview with Davis and Matt Singer's review of the film are here.)
"Knucklehead" (2010)
Directed by Michael W. Watkins
Released by Vivendi Entertainment
Like the John Cena drama "Legendary" earlier this year, this comedy marks a step away from the action films that defined WWE's early years in the film business starring the Big Show as a dim bulb orphan named Walter who is coaxed into competing in a mixed martial arts event by a conman (Mark Feuerstein) who promises him that the money will go to saving his orphanage, though fortunately a nun ("The Office"'s Melora Hardin) is onhand as Walter's chaperone to keep things on the up and up.
"Light Gradient" (2009)
Directed by Jan Kruger
Released by Strand Releasing
Jan Kruger follows two young men into the German countryside where they get lost and find out far more about each other than they thought possible in this drama.
"Locked Down" (2010)
Directed by Daniel Zirilli
Released by Lionsgate
It doesn't get too much more eclectic than this underground boxing flick which features MMA fighter Kimbo Slice alongside Bai Ling and Vinnie Jones in the story of a cop who is wronged by the system and is forced to fight his way through prison cage matches to stay alive.