Cat Stevens Versus Ozzy Osbourne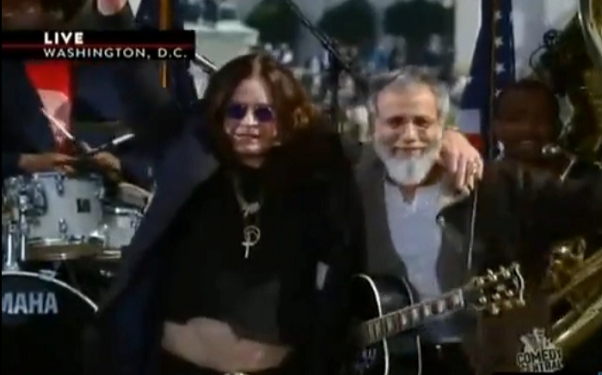 Posted by Brandon Kim on
Jon Stewart and Stephen Colbert's Rally to Restore Sanity/Fear was attended by around 250,000 people — a number that dwarfs Glen Beck's rally for lobotomies by most estimates (excluding those by Fox news). Two of the people present were Yusuf Islam, formerly known as Cat Stevens, and Ozzy Osbourne. The two were pitted against each other in a proxy battle between Stewart and Colbert, between sanity and fear.
Islam was introduced by Stewart and began playing "Peace Train" before Colbert interrupted and had Osbourne launch into "Crazy Train." It ended appropriately, with both of the performers embracing and walking off stage. Then the O'Jays jumped in and played "Love Train."
If the Halloween hangover kept you from seeing this yet, here it is below. For extra fun/horror watch this insecure right wing talk show douche go into steroidal conniptions trying to figure out what the rally was all about.