"Bulletstorm" Will Make Consoles Cloudy with a Chance of Carnage Next Year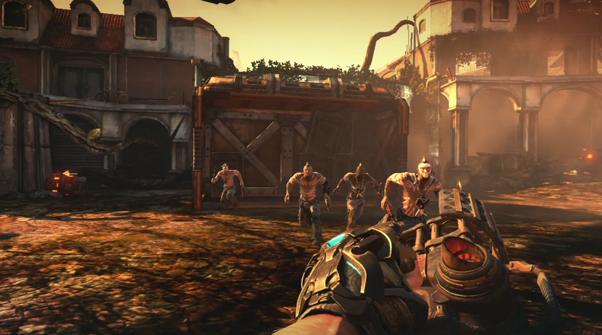 Posted by Evan Narcisse on
Epic Games churns out first-class shooters like Hostess makes cupcakes. They created crazy futuristic killing fields in their "Unreal Tournament games" on the PC and fueled tons of user-generated content with mod tools based on that game's engine. Then, led by design director Cliff Bleszinski, they followed that with the "Gears of War" games, which have gone on to become–with "Halo"– the other tentpole of the hardcore fanbase on the Xbox 360.
So, to say their all-new "Bulletstorm" game is eagerly anticipated is an understatement. The sci-fi shooter diverges from the melancholy vibe of the "Gears" games and delivers an set of foul-mouthed debaucherous characters who slaughter their enemies with aplomb. You'll be playing as Grayson Hunt, who leads a mercenary squad called Dead Echo. Hunt's team worked for The Confederation of the Galaxy but found out that the powers-that-be were actually galactic bad guys. Grayson and crew go on the run and become pirates, boozing it up and hijacking other ships in a remote corner of the galaxy. They happen upon a Confederation cruiser entering the orbit of former pleasure planet Stygia, and Hunt impulsively decides to ram it. The impact sends it and his own ship hurtling to the planet, where the two factions fight it out amongst bizarrely mutated plant and animal life.
Aside from the rowdier tone, Epic's trying some other new tricks with "Bulletstorm." Chief among them is the Skill Kill system, which awards points for stylish and unique enemy deaths. Impaling a bad guy onto giant cacti gives you a Bad Touch Skill Kill and so on. Hunt's more acrobatic than most FPS heroes, with a kick that sends enemies flying away from him and an energy leash that yanks them back. Combining those moves with a highly interactive environment promises to yield an abundance of random chaos filled with Skill Kills waiting to be discovered.
It's not the just the development side of "Bulletstorm" that boasts a smart pedigree. The story's being written by Rick Remender, whose creator-owned comic "Fear Agent" and work-for-hire contributions on Marvel's "Punisher" have earned him accolades. As the trailer above attests, "Bulletstorm" will be a bawdy, NSFY (not safe for young'uns) affair, published by EA. Bleszinski's promised that fans of Joss Whedon's Firefly/Serenity properity will love the upcoming game. We'll see if that's the case when it hits next year.