Bijou Phillips: Patron Saint Or Something Like It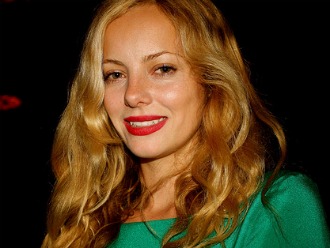 Posted by Melissa Locker on
Back in 2005, two fresh-faced and beautiful women appeared in a little film called Havoc. Written by Steve Gaghan who also wrote "Traffic" and "Syriana" and directed by Barbara Kopple (Harlan County U.S.A.), "Havoc" introduced the world to the diverse acting talents of a young Anne Hathaway, who previously had been pigeonholed as a princess. (See, "Princess Diaries", "Ella Enchanted".) After "Havoc" Anne went on to a little film called "Brokeback Mountain" and a non-princess acting career was made. Anne Hathaway is now garnering lots of attention for her role in "Love and Other Drugs" back alongside Jake Gyllenhaal.
But what about the other star of Havoc? While Bijou Phillips career hasn't yet reached the celebrity of Anne Hathaway, she is practically the patron saint of IFC. She is in so many films that we love. She was glorious groupie Estrella Starr in Cameron Crowe's Almost Famous. She even had a bit part in Allison Anders' film "Sugar Town".
Lately it seems that every movie we show on IFC has Bijou Phillips in it. She has roles in some of the most emotionally disturbing films we know, including Larry Clark's Bully, which is airing on IFC Monday, Nov. 29 at 12:00 a.m. EDT and Wednesday, Dec. 15 at 11:00 p.m. ET:
She also star in Eli Roth's Hostel, Part 2, which is one of our all-time favorite horror films. Did we mention it is airing Saturday, Nov. 27 at 11:30 p.m. ET and Sunday, Nov. 28 at 4:30 a.m. ET?
And, of course, she's in Havoc, which airs tonight at 8:25 p.m. ET. In the film she is a bored and spoiled socialite who takes a walk on the wild side, but it was totally Anne Hathaway's fault. That girl is such a bad influence:
Havoc airs today at 8:25 p.m. ET