"Lost and Found" Footage and Other Discoveries This Week on DVD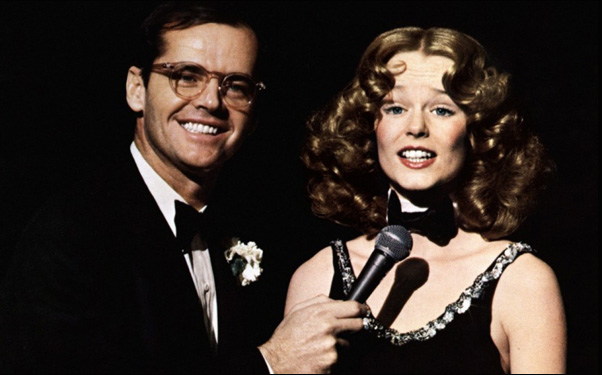 Posted by Stephen Saito on
"America Lost & Found: The BBS Story" (1968-1972)
Released by Criterion Collection
A set of seven films that's as diverse and wild as the era in which they were born, Criterion's reassembly of BBS Studios' run from 1968 through 1972 boasts influential hits like "Easy Rider," "Five Easy Pieces" and "King of Marvin Gardens" and obscurities like Jack Nicholson's directorial debut "Drive, He Said" and Henry Jaglom's "A Safe Place" that have never been on DVD before. New interviews, vintage documentaries and much more from directors Bob Rafelson, Peter Bogdanovich (whose "Last Picture Show" is also included), Nicholson and the late Dennis Hopper highlight a collection that doubles as a history of when there was a changing of the guard in American cinema.
"Countdown to Zero" (2010)
Directed by Lucy Walker
Released by Magnolia Home Entertainment
This "scareumentary," as our own Alison Willmore termed it in her review, reunites Participant Media and "An Inconvenient Truth" producer Lawrence Bender to focus on the reemerging threat of nuclear proliferation around the world and features talking heads like Jimmy Carter, Mikhail Gorbachev, Tony Blair, and Pervez Musharraf.
"Cross the Line" (2010)
Directed by Albert J. Allie
Released by Celebrity Video Distribution
According to IMDb, there's already been a sequel announced for this low-budget crime thriller, so the time is now to catch up with Allie's cop drama which forces a recently divorced pair of detectives (Allie and Tina Krause) to work one last case together to bring down a drug kingpin.
"Deadland" (2010)
Directed by Damon O'Steen
Released by Phase 4 Films
A staple on the regional festival circuit where it's picked up awards for best feature at the Nevada and Central Florida Film Festivals, Damon O'Steen's action film is set during World War III where one survivor (Gary Weeks) searches for his wife following a nuclear apocalypse.
"The Disappearance of Alice Creed" (2010)
Directed by J Blakeson
Released by Anchor Bay Entertainment
Former Bond girl Gemma Arterton has been very busy in the past year making the would-be blockbusters "Clash of the Titans" and "Prince of Persia" and the Cannes-bound Stephen Frears flick "Tamara Drewe." But it was the directorial debut of "The Descent: Part 2" writer J Blakeson that was sheer torture – as the titular Alice Creed, she is kidnapped by two common hoods ("Happy-Go-Lucky" star Eddie Marsan and Martin Compston) who hold her hostage until she attempts to turn the tables. (My review is here.)
"Eat Pray Love" (2010)
Directed by Ryan Murphy
Released by Sony Pictures Home Entertainment
Even if you weren't one of the millions to pick up Elizabeth Gilbert's bestselling memoir or are usually resistant to the charms of Julia Roberts, one might consider this travelogue in which Roberts flirts with James Franco and Javier Bardem in foreign locales from India to Italy following the dissolution of her marriage as a vacation from home, given Robert Richardson's lush cinematography. "Glee" creator Ryan Murphy directs.
"The Expendables" (2010)
Directed by Sylvester Stallone
Released by Lionsgate
After opening on the same day back in August, Sylvester Stallone's action extravaganza's rivalry with "Eat Pray Love" continues to the small screen where Jet Li, Dolph Lundgren, Randy Couture, Jason Statham, Mickey Rourke and even Julia's brother Eric Roberts will cram into your television set. In his review, Matt Singer called it "the ultimate mid-life crisis movie," though the therapy here is all done in bullets.
"Fire & Ice: The Dragon Chronicles" (2010)
Directed by Pitof
Released by Entertainment One
Wonder what ever happened to Pitof, the director of "Catwoman"? Well, wonder no more as he directs familiar faces John Rhys-Davies, Amy Acker and Arnold Vosloo in this dragon-filled medieval epic about a kingdom beset by the fiery flying beasts.
"Flipped" (2010)
Directed by Rob Reiner
Released by Warner Home Video
When Rob Reiner's warmly received '50s-set coming-of-age story found a cold reception in its limited theatrical release, Warner Brothers quickly pulled it from theaters, meaning that this adaptation of Wendelin Van Draanen's novel about two eighth graders who fall for each other at different times will just have to be discovered at home.
"Greaser's Palace" (1972)
Directed by Robert Downey Sr.
Released by Scorpion Entertainment
"Putney Swope" mischief-maker Robert Downey Sr. reinterprets the story of Jesus in this 1972 counterculture oddity.
"Grotesque" (2009)
Directed by Koji Shiraishi
Released by Media Blasters
While Koji Shiraishi's horror film won't be seen in England anytime soon, where it was banned, Media Blasters is releasing it here, depicting the story of a couple abducted on their first date and tortured in the basement of a medically trained madman. Castrations and mutilations commence as the couple begs for their lives.
"Harlan: In the Shadow of Jew Süss" (2010)
Directed by Felix Moeller
Released by Zeitgeist Films
The son of famed German helmer Margarethe von Trotta, Felix Moeller presents the family of a far less regarded filmmaker, Veit Harlan, a hired hand of Joseph Goebbels who presided over the incendiary piece of Nazi propaganda, "Jew Süss," in 1940. In the present day, Moeller checks in on Harlan's children and grandchildren to see how their patriarch's legacy as an acquitted war criminal shaped their lives and the nation around them. (Lisa Rosman's review is here.)
Hide and Go Kill 1 and 2 (2008-2010)
Directed by Tomoya Kainuma (1) and Masafumi Yamada (2)
Released by Cinema Epoch
Cinema Epoch brings this J-horror flick and its sequel to American shores where teenage girls spend their late nights playing a game of hide and seek online that quickly spirals out of control and its contestants start winding up dead.
"If You Could Say It In Words" (2008)
Directed by Nicholas Gray
Released by Vanguard Cinema
A winner of best feature at the Derby City Film Festival in 2008, this romantic drama is set in Philadelphia where a painter with Asperger's Syndrome attracts the interest of an adrift young woman, both of whom have trouble expressing their feelings.