Alex Gibney Speaks Up for "Client 9: The Rise and Fall of Eliot Spitzer"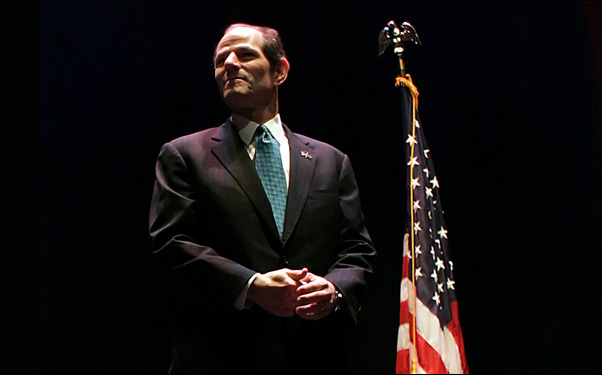 Posted by Stephen Saito on
"This year was kind of a fluke and a freak," Alex Gibney said of 2010, the first 11 months of which have seen the release of three of his documentaries — "Casino Jack and the United States of Money," "My Trip to Al-Qaeda" and his portion of "Freakonomics" — and will usher in another this week with "Client 9: The Rise and Fall of Eliot Spitzer," an investigation into the New York governor whose triumphs as a public official were quickly erased by his private indiscretions. If that description of Gibney's latest sounds vague when nearly every American could recount some of the most sordid details of Spitzer's sex life by heart, it's because "Client 9" unfurls a narrative that barely resembles the one laid out by the mass media in their rush to make a star out of prostitute Ashley Dupré and a goat out of the man some predicted would become "the first Jewish president" after building his reputation as a dogged attorney general who took on the powers on Wall Street.
It took considerably longer for Gibney to get Spitzer's shocked allies, giddy enemies and the former governor himself to speak on the record, but as the Oscar-winning director of "Taxi to the Dark Side" admits, the two years Gibney spent after the scandal broke was in the best interest of the final product, allowing for the discovery of the real relationships Spitzer had with prostitutes (hint: it wasn't necessarily with Dupré) and the time to piece together how financial titans such as AIG's Hank Greenberg and Home Depot founder Ken Langone engineered Spitzer's disgraceful ouster from government. (My full review of the film from the Toronto Film Fest is here.) Recently, Gibney sat down with me to discuss taking the side of the defense for a change, how "Client 9" reminds him of "The Big Sleep" and his friendly competition with "Inside Job" director [and "No End in Sight" collaborator] Charles Ferguson.
What originally got you interested in this?
This was one that was offered to me, ironically by my producers who had been approached by some hedge fund guys and I think they felt it was fun to do something about Spitzer's downfall. My deal was after thinking about it for a week, it just seemed to be about a lot of things, but there wasn't any particular theme. It seemed like such a rich story and a story that had a mystery at its heart, so I dug in and then to the hedge fund people, I said, "Look, I don't want to be beholden to anybody on this story, so put the money in an account, give me total editorial control and I'll do it."
Like "Enron: The Smartest Guys in the Room," this film is based on a book by Peter Elkind ("Rough Justice"). Do you and he have a collaborative relationship?
It was on this one. It was on "Enron" too, but they had written their book [already], so they helped me, they advised me – he and Bethany [McLean, the co-author], but on this one, I knew Peter had gone to school with Spitzer and I knew he had done some big profiles of him for Fortune magazine, so it seemed like if we had teamed up that we might get something done together. The deal was each one of us — and we had enjoyed working together on "Enron" — would do whatever we wanted to do in terms of the final result. He'd write his book the way he wanted. I'd do my film the way I wanted, but along the way, we'd help each other. Maybe we'd dig out different pieces of the puzzle. And that's what ended up happening. Also for me, it was key because Peter was a key entrée into Spitzer himself.
This film appears to sympathize with Spitzer to some degree when many of your other films have been takedowns, like "Enron" or "Casino Jack." Was it different approaching a film from the defense rather than the prosecution?
That's a good way of putting it. In a funny way, I think I'm a little bit of both in this movie, but yeah, I am sympathetic to Spitzer. Generally speaking, the film is sympathetic to Spitzer. At the same time, I hope I was tough and one of the things that we did was to find out some uncomfortable things that he may have wished we hadn't found out about the escort world and his role in it.
So it was a little bit of both, but it's funny in this one. I think this one was a little different for a number of reasons and the key reason I think is I didn't approach it like a prosecutor would approach. It wasn't kind of a legal brief like "Taxi to the Dark Side" was. It was a story and I tried to understand the parameters of the story and in telling the story learn some things that I might not have heard otherwise. But it was all about telling the story.
There's a lot of misdirection in the film, which I imagine might've reflected your own struggles to get at the truth. How much did being misled personally enter the actual structure of the film?
It's a very perceptive question because I think the structure is all about that. It's all about setting up the audience for one expectation and then undermining it. Or really, not trying to trick them, but basically saying this is what we think we know, because that's very much the situation I was in as I approached the story. I would come across stuff and say, "oh, I think I know this – Ashley Dupre's the person." Turns out it wasn't Ashley Dupré. When we first showed that guy Hubert Waldrop, the painter, you think well, what's this painter doing? And then it's revealed slowly but surely that he's not a painter really…he's a booker for one of the escort agencies.
Same thing – you think well, it's obvious Spitzer just did something that was terrible, so what more is there to know? But in fact, there was a lot more to know, particularly in terms of how he was taken down. And Spitzer himself says, "I took myself down," which is true, but he has to say that. From the standpoint of us as citizens, we have to wonder what other abuses of power were involved in the way he was taken down, which in my view, was utterly inappropriate. I thought about "The Big Sleep" a lot when I was making the movie. The deeper you get into the movie, the more at sea you are until you come to the end. And at the end of the day, it's not so important who killed the chauffeur as the kind of mood and character of the people in the story.