40 Years of "Airport": "Airport" (1970)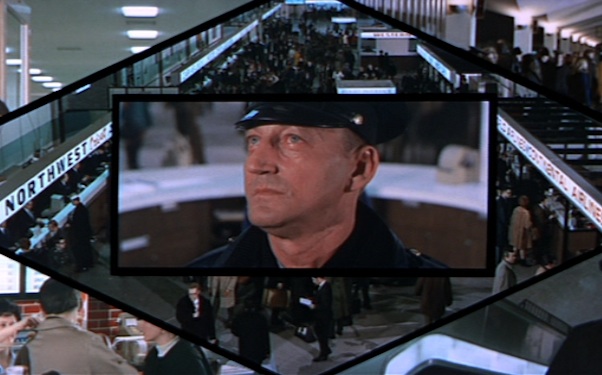 Posted by Matt Singer on
In 1970, one movie invented the modern disaster film. After grossing more than $100 million at the domestic box office (adjusted for inflation, it made more than any of the "Lord of the Rings"), it spawned three sequels that stretched through the entire decade. But this landmark series is now almost totally forgotten, long eclipsed by the film that so brilliantly spoofed the genre tropes it helped define. In honor of its fortieth anniversary, we're looking back at the "Airport" franchise this week, one film at a time. Today, the movie that started it all, based on the novel by Arthur Hailey.
Airport (1970)
Directed by George Seaton
Nature of Air Emergency: A distraught man detonates a crude suicide bomb on a commercial jet in the hopes that his wife will collect his life insurance. Captain Vern Demerest (Dean Martin) has to land the damaged plan in the middle of a brutal Chicago snowstorm at an airport where the main runway is closed.
George Kennedy Plays: Joe Patroni, Chief Mechanic of Trans Global Airlines.
Most Surprising Subplot: Flight attendant Gwen's (Jacqueline Bisset) unwanted and out-of-wedlock pregnancy, which prompts a weirdly frank discussion about abortion between Bisset and Martin. "I stopped taking the pills because they were making me gain weight," she tells him. "So instead of being plump I'm pregnant." His response: "I'll make sure you don't go to some butcher two flights up over a drug store. I hear Sweden's the best place. Good doctors, good hospitals. Medically safe." Call me naive, but I wasn't prepared for the silly disaster picture about the plane that gets blown up and still lands safely to set aside a few minutes for a sincerely moving conversation about family planning. Go ahead. Call me naive.
If "Airport" Were Made Today: it would be hard to play Helen Hayes' stowaway character as the comic relief. Mrs. Ada Quonsett is a widow who hitches rides on airplanes whenever she feels like it. Everything she does is illegal and immoral, but she's a little old lady and she's having a lot of fun being bad; even after she's caught, she still tries to talk her way into the admiral's club with a "borrowed" membership card. In 1970, people sneaking onto airplanes with forged documents could be kind of charming (talk about being naive). In 2010, people sneaking on airplanes with forged documents, even little old lady types, not so charming.
Character You Kind of Want To Die: This one random passenger who keeps screwing things up for everyone else. When the flight crew get wind of the bomber's plan, they hatch an elaborate scheme to grab his explosives, hidden in a briefcase, away from him. The plan works, until this one random guy sees what's happening and sticks his nose in where it doesn't belong; he stops the flight attendant with the case, and the bomber is able to grab it back. Then a few minutes later, just as Dean Martin is about to convince him not to blow himself up, a man comes out of the bathroom and bumps into the bomber, and the same random douchebag screams out "He's got a bomb!" That starts a scuffle that results in the bomb going off. That one idiot is indirectly responsible for everything that goes wrong on that airplane! Is it weird that I kind of enjoyed watching him struggle for air when the cabin depressurized? Also: how intense does a trip to the bathroom have to be to not hear a guy threatening to blow up an airplane right outside the door?
Line That Makes You Wonder Whether The Whole Film Was An Informercial For The Air Travel Industry: "Remind me to send a thank you note to Mr. Boeing." — Capt. Harris (Barry Nelson), inspecting the damaged plane after its safe landing.
Parodied in "Airplane!": The opening credits of "Airplane!" are an obvious parody of "Jaws": a model 747 tail fin snakes through lines of clouds while ominous John Williams-esque music plays. You assume the model looks so cheap because the Zuckers couldn't afford anything fancier until you watch some of the flying sequences in "Airport," which actually tries to pass off an incredibly phony toy plane skimming through cotton balls as a real plane in flight.
How Does It Hold Up? Better than I expected. "Airport" may have helped invent the modern disaster movie, but it's a lot less over-the-top than many of the films that would follow (I'm looking at you, movie about Michael Caine fighting millions of angry bees). Most of the movie isn't even about the airplane disaster; it really does focus on this airport and the tough decisions that have to be made by its manager, Mel Bakersfeld (Burt Lancaster). Even amidst all the movie stars and the big action set pieces, the movie has a nice working-class vibe. While Martin's romancing Bisset, Lancaster and Kennedy are doing the unglamorous stuff: dealing with corporate bureaucracy, fielding complaints from angry customers, and digging planes out of snow banks, all on their nights off. For the people in the sky, air travel is exotic and exciting. Even though their flight gets attacked, it's all this grand adventure that works out in the end. For the people on the ground, it's just a job, and a pretty crappy one at that; it destroys at least one marriage before the picture's over. I guess the powers that be at Universal felt that the movie stars and big action set pieces were what put asses in the seats, not the promise of tough management decisions. That would have a major impact on the tone and plot of the sequels.
Strange But True: According to Wikipedia, the plane that Universal leased to double for the damaged Trans Global jet was later sold to a Brazilian airline. On March 21, 1989, it was involved a real-life air disaster resulting in over twenty-five fatalities. Creepy.
Tomorrow: "Airport 1975"
Wednesday: "Airport '77"
Thursday: "The Concorde… Airport '79"
Friday: "Airplane!"