40 Years of "Airport": "Airplane!" (1980)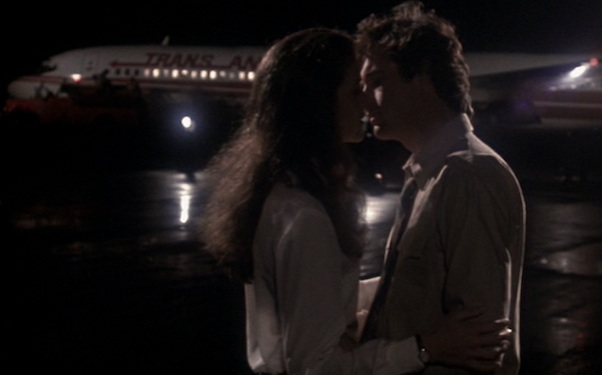 Posted by Matt Singer on
In 1970, one movie invented the modern disaster film. After grossing more than $100 million at the domestic box office (adjusted for inflation, it made more than any of the "Lord of the Rings"), it spawned three sequels that stretched through the entire decade. But this landmark series is now almost totally forgotten, long eclipsed by the film that so brilliantly spoofed the genre tropes it helped define. In honor of its 40th anniversary, we're looking back at the "Airport" franchise this week, one film at a time. Today, "Airplane!" said brilliant spoofer of said genre tropes.
Airplane!
Directed by Jim Abrahams, David Zucker, and Jerry Zucker
Nature of Air Emergency: The passengers of Trans American Flight 209 from Los Angeles had a choice for dinner: steak or fish. Those who chose steak now have another choice: find someone to land their plane after everyone who had the fish, including the pilots, takes ill with food poisoning or crash.
How Does It Hold Up? Aside from a couple of commercial parodies that mean nothing in 2010, pretty well. After watching all those real disaster movies, the thing that struck me rewatching this fake one is how little work the Zuckers and Abrahams had to do to turn drama into comedy. After you've watched "The Concorde… Airport '79" it's really not that big of a leap to "Airplane!" Actually of the two, "Airplane!" is the more realistic movie, and it involves an inflatable automatic pilot named Otto.
After spending a week with George Kennedy and the rest, "Airplane!" is like the first breath of fresh air after eighteen-and-a-half hours on the nonstop flight from Newark to Singapore. Aside from "The Concorde," which seemed vaguely aware that it was a comedy disguised as an action drama, the "Airport"s are stuffy, stuffy movies. Charlton Heston doesn't crack a single knowing joke as he rappels onto a moving plane and Jack Lemmon seems to think riding a lifeboat from the bottom of the ocean to the surface to set off a homing beacon in the middle of the Bermuda Triangle makes perfect sense. Even without the great gags like the "Who's On First?"-esque pilot names ("Roger, Roger. What's our vector, Victor?"), "Airplane!" would be hilarious just for pointing out the silliness of these disaster pictures. It encapsulates the entire "Airport" aesthetic in one perfect sight gag: Robert Stack dramatically punctuating a conversation by removing his sunglasses to reveal a second pair of sunglasses underneath. That's "Airport" in a nutshell: bluster, machismo, and a total lack of self-awareness.
One of most surprising parts of this week was discovering just how good the first "Airport" was and how little its sequels took from it. The first film holds some genuine tension and human drama, and offers a pretty compelling look at the inner-workings of the air travel industry. The rest of the films are overblown exercises in excess. The arc of the series reminds me of the "Saw" franchise, which turned an original and complex morality tale into an excuse to build bigger and gorier human slaughterhouses. The formula goes something like this: Hollywood takes a fairly nuanced film, finds the most outrageous and sensational elements, and creates sequels showcasing only those parts. So a movie about an airport dealing with disaster begets movies about increasingly outrageous disasters.
Audiences may think they want bigger and better stunts and special effects, but the reason they were drawn to "Airport" were the rich human characters trying to endure and survive. On a technical level "Airplane 1975" and "Airport '77" are far superior to "Airport," but on an emotional level, they can't hold a flare to it. Part of what makes "Airplane!" one of the best spoofs ever made is the fact that for all the wackiness and stupidity we identify with Ted Striker (Robert Hays) and Elaine (Julie Hagerty), and we care about whether they land that plane. They may be dumb, and their memories may be parodies of other movies, but Hays and Hagerty are so sweet and likable that we root for them in ways we never do for Heston or Lemmon.
Blustery and boring protagonists in humorless scenarios make the second through fourth "Airport"s joyless affairs, even with all the action and explosions. Obviously, an airplane disaster isn't the most "fun" premise for an action movie, but there isn't ever any sense of relief or pleasure when the planes land safely. That's why "Airplane!" has endured. It's fun to watch. We get pleasure when it lands safely, and we get more pleasure when it takes off again with Otto and his autopilot girlfriend at the helm.
Strange But True: According to IMDb, David Letterman auditioned for the role of Ted Striker.
Monday: "Airport"
Tuesday: "Airport 1975"
Wednesday: "Airport '77"
Thursday: "The Concorde… Airport '79"
Today: "Airplane!"