When Religion Goes Bad: 'The Wicker Man' and More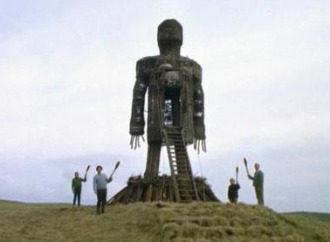 Posted by Melissa Locker on
We're showing the deliciously creepy 1974 film The Wicker Man tonight as part of Indie Screams. Not to give too much away about the film, but a very pious police officer is summoned to a distant Scottish isle to find a missing girl, but when he arrives on the island everyone claims the girl never existed. When the police officer realizes that the island is ruled by a libertarian society organized around pagan rituals, things go from bad to worse.
Thinking about paganism got us thinking, what other movies show religion gone wrong? Obviously The Exorcist is a frightening depiction of christian beliefs, but the priests in that film helped, like, a lot. So what movies show religion in a less positive light? Clearly any movie where you are unknowingly inseminated with the devil's seed counts. But we talked about Rosemary's Baby, yesterday in our list of the Top Ten Scariest Movies Ever and Blessed when we listed Heather Graham's Five Worst Films. We put on our thinking hats and here is the list we came up with:
While not exactly a great film, The Serpent and The Rainbow does give an interesting look into the Voodoo religion. Interestingly, the book it was based on was actually a Harvard ethnobotanist's account of his research into Haitian culture and indigineous use of plants, which seems an unlikely place for horror master Wes Craven source material.
They're heeeeeerrrrrreeee. Steven Spielberg's Poltergeist explores a world beyond where the lucky folks who follow their shepherd to their deaths get to haunt a little girl's television set:
Stephen King's Children of the Corn will make you think twice about buying your produce on the farm:
The restless spirits of demonic nuns come back to possess a batch of college students unlucky enough to trespass and party on the grounds of their abandoned convent in
The Convent. Pro Tip: Demonic nuns are not to be trifled with.
In The Prophecy, as in awesome television show Supernatural, it turns out that angels are kind of jerks and mere mortals get stuck in the middle of epic battles.
Similarly in Legion the end of the world comes with a side of hash browns and toast:
Clearly this list is not comprehensive. Head to the comments to add your own.
The Wicker Man airs on IFC at midnight eastern tonight.