What to Watch on IFC: October 25-October 31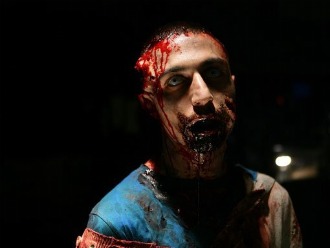 Posted by Melissa Locker on
Halloween is on Sunday, which makes this the spookiest week of the year. We're making sure the kiddies don't hog all the fun for once by airing one episode a night of awesome British import Dead Set all week at midnight as part of Indie Screams. Then as a treat that goes well with a bag of snack-size Snickers we will be airing the entire mini-series all Halloween long. So, don't T.P. the television set, okay?
Monday
Guillermo Del Toro's exquisitely beautiful and stark Pan's Labyrinth airs at 12:45 p.m. ET. Soothe your tears and your fears with a mini-marathon of The IT Crowd from 2:45 p.m. to 5:30 p.m.
Tuesday
At 9:30 p.m. ET, Birmingham rock outfit Editors stop by 360 Sessions. After a tour of old Brummy, they perform their hit single "Smokers Outside the Hospital Door". Don't know the song? Here it is:
Wednesday
From 2:45 p.m. ET to 8 p.m. ET we're showing some of our favorite episodes of Monty Python's Flying Circus. . Then at 8:15 p.m. check out Brian de Palma's Blow Out, a political thriller starring a young John Travolta:
Thursday
If you don't know the surprise twist in The Crying Game, we're sorry that you have been living under a rock since 1992. Catch up with all the 90s spoiler alerts and watch it at 8 p.m. ET.
Friday
Between a new episode of The Increasingly Poor Decisions of Todd Margaret at 10 p.m. ET and one of the final episodes of Freaks & Geeks at 11 p.m. ET, there's no reason to leave your couch all night. You know, if you needed an excuse.
Saturday
Roll out of bed at 10 a.m. and you can laugh yourself silly with back-to-back episodes of The Three Stooges, Monty Python's Flying Circus, and Todd Margaret Then starting at 8 p.m. ET, scare yourself senseless with Alien (one of the scariest movies of all time), Saw, and Broken Lizard's Club Dread.
Sunday
Happy Halloween. First we're showing the Kids in the Hall's mini-series Death Comes to Town. Then, if you like zombies–and who doesn't–you'll want to stay home all day with the doors locked and a big baseball bat. We're playing Dead Set all day long from 7:30 p.m. to 10 p.m. ET.