What to Watch on IFC: October 12-October 17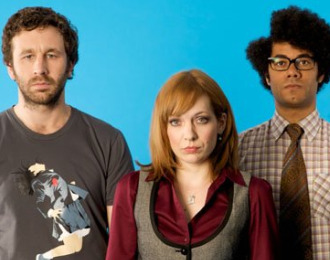 Posted by Melissa Locker on
If you have ever used a computer (is it plugged in?), browsed the internet (you do need a browser for that), or answered a phone (or let a recording do it for you) you should be watching The IT Crowd. What's The IT Crowd? Are you from the past? The IT Crowd is the hit British comedy created by Graham Linehan who is the man behind the hilarious show, Father Ted. It stars Richard Ayoade, Chris O'Dowd, and Katherine Parkinson as the crack tech team at the mysterious mega-corporation, Reynholm Industries, headed by Matt Berry's Douglas Reynholm. Watch and learn all this week.
Tuesday
To make your Tuesday bearable we are showing three hours of Series 2 of The IT Crowd. You're welcome.
Wednesday
It's Wednesday, which means we are showing Series 3 of The IT Crowd. We accept Edible Arrangements as thank you presents.
Thursday
Thursday means Series 4 of The IT Crowd is playing from 3 p.m. – 6 p.m. If the office adventures of Moss, Roy, and Jen aren't your cup of tea (because your soul has been sucked dry by florescent lighting and printer toner), we are also showing the twisted antics of Jigsaw. Pretty sure that Saw 8 will involve needing to network four computers and add a printer via Windows Vista or they shoot your dog. Saw plays at midnight, of course.
Friday
Freaks & Geeks and The Increasingly Poor Decisions of Todd Margaret air on Friday nights, adjust your social life accordingly. Or your World of Warcraft game time.
Saturday
If you ignored our advice and went out last night, don't worry: Between The Three Stooges and Monty Python's Flying Circus marathons we have on the air today, you have no reason to leave the couch.
Sunday
Did you lose your remote control? Don't worry, you can leave the television on IFC all day. We have a marathon of The Whitest Kids U'Know followed by Monty Python's Flying Circus. Still want more? Todd Margaret and Freaks & Geeks are airing too.