Welcome To The 'Todd Margaret' Premiere Party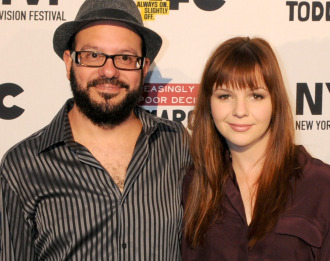 Posted by Melissa Locker on
During the New York Film and Television Festival we had a little party to introduce The Increasingly Poor Decisions of Todd Margaret to the world. Now we have the video all primped and pretty and ready for viewing.
At the premiere, star, creator, and writer, David Cross walked the gauntlet of paparazzi desperate–not to find out what he was wearing (he is never nude, after all)–but for clues to the downfall of crack salesman Todd Margaret. David Cross was joined by on- and off-screen girlfriend Amber Tamblyn and co-writer Simon Pye. We were hoping for a Will Arnett appearance, but as a father of two and starring in his own television show, Running Wilde, we'll give him a pass. However, there was a surprise appearance by comedian Robert Klein, who starred in HBO's first-ever stand-up comedy special.
After the Red Carpet, the crew, their entourages, fans, and the press filed inside to watch two episodes of The Increasingly Poor Decisions of Todd Margaret and a Q & A session. Video of the Q & A is forthcoming.
You can read more about the Red Carpet festivities here. And be sure to check out the gallery of photos here, including the massive Thundermuscle delivery that interrupted the after-party. We left before the guests could start chugging the energy drink and yelling, ""I have the strength of Zeus after he made love to a bionic hippopotamus!" Not that there's anything wrong with that.
Did you miss the first episode of Todd Margaret on October 1? Don't worry we're repeating it tonight at 11 and 11:30 p.m. ET. In the mean time, here's the video evidence that IFC knows how to throw down the Red Carpet and really celebrate the much anticipated return of David Cross to television: