Watch: Kanye West's short film "Runaway"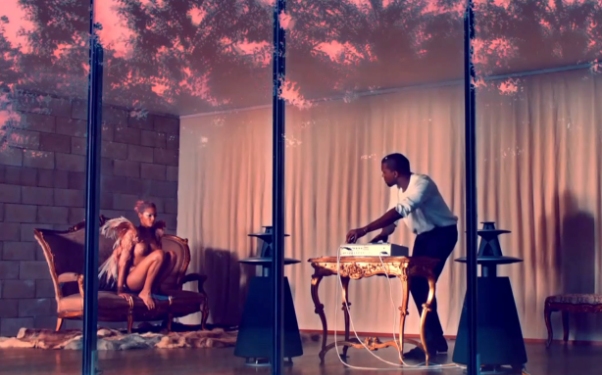 Posted by Brandon Kim on
From the opening shot of "Runaway" it's clear Kanye West is operating on some new level — at least visually — thematically it's all wtf. We see a man (Kanye), shirt billowing, running like his life depends on it down a dark road with an ominous fog behind him. It's a fantastic shot that makes me really want to see the next scene of that movie. And it only gets more visually impressive from there, but also all, music video, for better or worse.
A fireball plummets from the sky, delivering a hot, feathered, phoenix babe and Kanye takes her back to his pad (See Cool Guys Don't Look At Explosions). Soon he's fingering a midi production controller, while his new bird's quivering and undulating to his beats. It's hilarious shit, brilliant even, but I can't tell if the director is serious.
I like this quote that Vulture noted down by Kanye when the film premiered in NY:
"Think big, set your goals high. I mean, a 35 minute film — we did it. We so seventies right now. We rock stars, fuck y'all's opinion."
Later it becomes clearer what Kanye's message is, as delivered by his feathered friend, "Anything that is different you try to change, you try to tear it down," she says, presumably of mainstream pop culture (and bloggers).
Then there's an exchange of hilariously bad dialogue:
Phoenix Babe
If I don't burn I can't go back to my world.
Kanye
I don't want you to go back to your world, I want you to stay here with me.
Phoenix Babe
I have to burn
Kanye
No, I'll never let you burn.
And then Kanye gets a mouth full of feathers before the film cuts back to that opening shot. See what happens yourself in this possibly NSFW unedited version:
(If that's unavailable go here)