"Walking Dead" Comic To Be Reprinted Weekly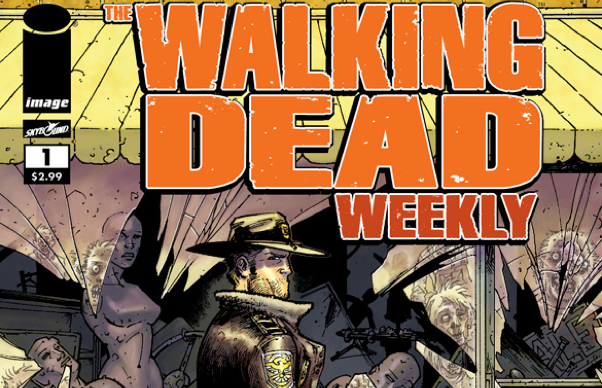 Posted by Evan Narcisse on
Comic fans, horror buffs and zombie lovers of all stripes are all atwitter about the imminent debut of the Walking Dead. Still, for some people, all they know about the show comes from a bunch of creepy commercials that run during "Mad Men."
Those who want to learn more about the hit Robert Kirkman comic series that spawned the show are in luck, though. Publisher Image Comics just announced that they'll be reprinting the series in single-issue form starting in January as The Walking Dead Weekly. Here's the official description:
THE WALKING DEAD WEEKLY #1
January 5
Starting in this issue, Rick Grimes awakens to a world he's not prepared for. This small town cop must now fight the forces of the undead while he searches for his missing wife and son. This is the issue that started it all!

THE WALKING DEAD WEEKLY #2
January 12
Rick Grime's horrific adventure continues. Everything he knew is gone, and the search for his family begins. Rick sets out for Atlanta, the last known location of his wife and son.

THE WALKING DEAD WEEKLY #3
January 19
Now reunited with his family, Rick Grime's focus shifts from survival to protection. It's one thing to know that you have to watch your back every second of every day. It's another thing entirely to have to worry about losing your family in the blink of an eye.

THE WALKING DEAD WEEKLY #4
January 26
It is decided that in order to survive… every person at the camp should have guns. As it is, they don't have enough to go around and the only place to get more guns is the city, but it means certain death to go into the city. Is Rick crazy enough to risk his life for the good of the camp
The original run of The Walking Dead continues on a monthly release, with last week's issue #78 being the most recent installment. Kirkman's series is one of the best speculative fiction dramas in recent years and shows a sharp, entertaining insight into human nature. Whether it's in weekly form at your local comic shop, digitally on the Comixology app for iPad or in collected editions at a bookstore, you should start reading it now. Because, if what the advance buzz is saying is true, once the show starts airing, everyone will be talking about it.