Tony Goldwyn on the Many Trials of "Conviction"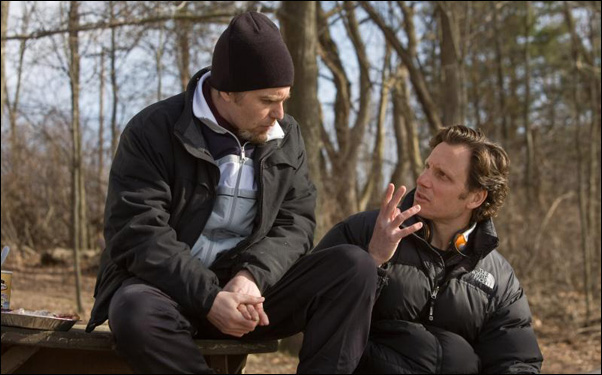 Posted by Stephen Saito on
Even though Tony Goldwyn's surname has long conjured up the heady days of Hollywood's Golden Era and of his grandfather Samuel, he has long carved out his own path as an actor, most famously in "Ghost," and as a director of films such as "The Last Kiss" and "A Walk on the Moon" that has always put a modern spin on the old fashioned. (This could be demonstrated by his decision to star in the recent remake of "The Last House on the Left" and then on Broadway in a revival of "Promises, Promises," either of which taken alone might be considered reinvention, but when done back to back, becomes something radical.) The irony of his latest film as a director is that it might be the first that could've been made at his grandfather's old studio Paramount.
Ultimately, "Conviction" had to be produced independently, the product of an era where the social issue drama has all but vanished into the realm of television, even though, when done well, it can hold a power over an audience in a theater unlike few other genres. As Goldwyn explains below, it took nearly a decade to bring "Conviction" to the screen, a grueling wait only exceeded by the one in the story he tells of Betty Anne Waters, a Massachusetts woman spends 18 years attending law school and filing briefs with the sole purpose of overturning the murder case against her brother Kenny.
Being an actor himself, it should come as no surprise that Goldwyn's film is lifted by its performances from a cast including Hilary Swank, Minnie Driver, Juliette Lewis, and particularly Sam Rockwell (made more impressive by having little time to prepare, as he told Matt Singer recently), but also by the unusual shape Goldwyn and "Walk on the Moon" screenwriter Pamela Gray give to the classic underdog tale. Shortly after the film's premiere at the Toronto Film Festival, Goldwyn spoke about the film's long road to the big screen, invoking real-life names like Martha Coakley and how filmmaking's become a full-time career.
How did you get involved initially?
Nine years ago, my wife saw a piece on the news, I think it was "60 Minutes" about Betty Anne and Kenny right after his exoneration and I missed the segment. She told me about it and I asked myself, God this woman spent 18 years, what was that bond between those two people that she had such faith in him? He could've been guilty. She could've been wrong. She could've failed and yet she knew – that fascinated me.
Since all three of your other three films have been romances, did you ever see yourself using that template for this film where it's obviously a platonic love, but one that endures similar kinds of obstacles?
I always saw this as a love story between a brother and a sister. I never apply any template. Every story I tend to approach, you're exploring a theme — that connection, that love between this brother and sister — that was my guiding thing. In "A Walk on the Moon," it was about a woman who found herself in a life not of her choosing really and in a marriage, she suddenly woke up and found herself in her 30s, going I didn't choose this life and through her romance with this man, this affair that she has, she explores a part of herself she didn't know. That was the theme I was exploring and something I had been going through at that time about being in my 30s, so that's more my approach. I wouldn't say it's a template.
Yet it fits in so nicely into Hollywood tradition. Are you surprised you had to make this independently?
No, I'm not. [slight laugh] I was surprised along the road. But I'm not. Here's the thing about a movie like this. First of all, dramas are very difficult to sell. Studios are very nervous about them, especially female-driven dramas and a true-life story like this could easily be done as a TV movie version; it might be good, but it's not terribly interesting or innovative, so a marketing department goes we don't know how to sell this if it has a generic quality to it. I knew that wasn't the movie I wanted to make.
Although [the studios] saw the sort of "Erin Brockovich" potential in it, they were hesitant, so we developed it at a studio and it was at one point greenlit. Then it all fell apart for various reasons. Even when we had Hilary attached, they were like "Oh we want to do it," but they wouldn't greenlight it. They were waiting for some insurance policy. I begged the studio to give it back to me in turnaround, I said, "Please just admit to me you don't want to make this and let me take it out and set it up independently." Even that was incredibly difficult to finance because it's all a numbers game. But we persevered and we got very lucky and then of course, once it's made, even then it took a studio like Fox Searchlight to see it and they got it. They said, "We know how to sell this movie." With others, they said "We love it, it's great, but it makes us nervous." So it's just a very tough marketplace out there.