"Todd Margaret" Premieres at NYFTVF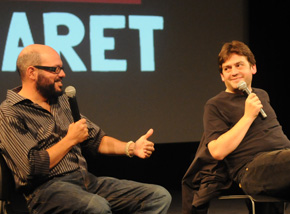 Posted by IFC on
Before you watch the premiere of "The Increasingly Poor Decisions of Todd Margaret" tonight on IFC (10 PM E, seriously, don't miss it), check out photos from the premiere of the series at the New York Film And Television Festival. On hand for the premiere were star David Cross, co-writer/creator Shaun Pye and series guest star Amber Tamblyn.
Following the premiere, guests headed over to The Half King were they enjoyed an evening of festivities, complete with Royal Palace guards (who looked as though they'd made some poor decisions of their own), a suspicious looking delivery of Thunder Muscle (the awesome new energy drink that will give you the strength of ten lightnings), and a British taxi to make sure any newly elevated Directors of Strategies got home safe.
If some of this sounds strange unfamiliar, tune in to The Increasingly Poor Decisions of Todd Margaret Fridays at 10pm E on IFC and all will be revealed.
[Click the thumbnails to see the images full size.]