THQ Opens Montreal Studio To Be Led By Former "Assassins' Creed" Creative Director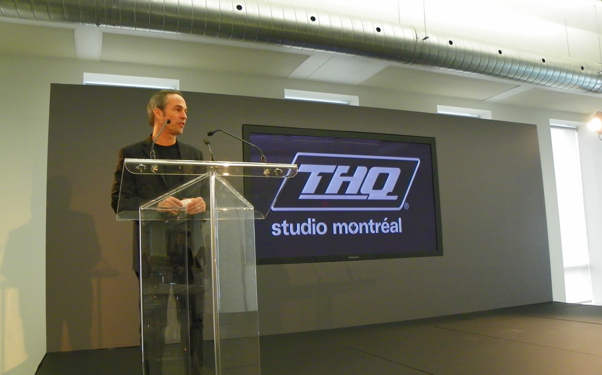 Posted by Evan Narcisse on
This morning, the publisher responsible for the "WWE Smackdown vs. Raw" series and the new Costume Quest game unveiled a brand-new studio in Montreal, Quebec. The facility will be headed up by Patrice Désilets, who, while at Ubisoft, worked on the beloved "Prince of Persia: The Sands of Time" and later oversaw development of the blockbuster "Assassins' Creed" games.
THQ's Executive Vice President Danny Bilson spoke at a morning press conference, saying that government incenties are a large part of what will enable the Montreal studio to compete with the larger publishers also present in Quebec, like EA and UbiSoft.
Dave Gatchel, general manager of THQ Montreal, also stressed that the local talent from the city's universities.
Désilets' presence at THQ is a big deal because in video games, where creatives are more anonymous, one doesn't see the kind of high-profile talent moves that typify Hollywood or pro sports deal-making. Along with Désilets, THQ's talent-first strategy has netted them a ballyhooed deal with Guillermo Del Toro, the distribution rights to "Costume Quest" and the addition of "Devil's Third," the latest creation by Hironobu Itagaki, best known for the modern-day "Ninja Gaiden" games. Gatchel talked about plans to hire over 400 people over next five years; currently a staff of 30 is at work in the facility. THQ's not yet announcing what the Montreal developers will be working on, but their focus will be on new IP aimed at the core gamer audience, like the upcoming "Homefront" game, which deals with a Korean invasion of the United States.