Revived and Derived: "Freaks and Geeks" Ep. 17, "The Little Things"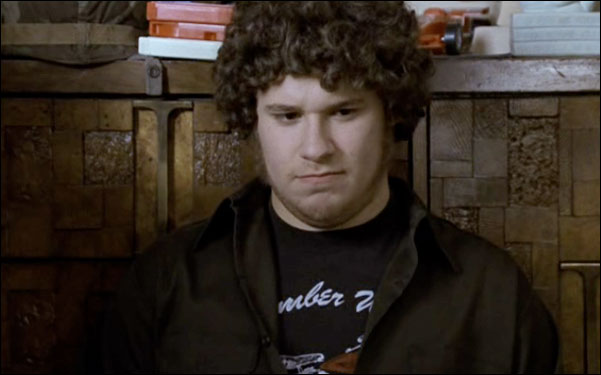 Posted by Matt Singer on
"Freaks and Geeks" is now airing on IFC, and we thought we'd take this opportunity to revisit the show that launched a thousand bromance movies. Every week, Matt Singer and Alison Willmore will be offering their thoughts on that night's episode.
Episode 17
The Little Things
Teleplay by Jon Kasdan
Story by Jon Kasdan & Judd Apatow & Mike White
Directed by Jake Kasdan
"You know what all my protesting accomplished in the '60s at Berkeley? 16 scars on my head from a teargas canister." — Mr. Rosso
Three storylines run through "The Little Things": the impending arrival of Vice President George H.W. Bush at McKinley (and the possibility that Lindsay might get to ask him a question), Sam's growing dissatisfaction with his relationship with Cindy Sanders, and the revelation that Ken's girlfriend Amy (Jessica Campbell) was born with both male and female genitalia. They seem like vastly different subjects for a single episode, political intrigue, relationship drama, and gender issues, but they're united by a common theme that's been touched on before on "Freaks and Geeks" but never to this degree of detail: the need for transparency and open dialogue in one's life.
Rosso's angry outburst, quoted above, is partly because he's having one honey of a bad week and just locked his keys inside his car (actually it's his mother's car, which isn't helping matters). But really he's "p.o.'ed" because he, the eternal optimist, convinced Lindsay, the cynic, that she should be excited for the opportunity to talk to Bush, only to discover that his dreams of a frank, political discussion were a hippie's fantasy.
Instead of asking whatever question she wants, Lindsay must ask the Vice President what his favorite local restaurant is (and what's worse, she's going to have to do it while pimping our her dad's sporting goods store). Though Lindsay reluctantly agrees, when she sees Mr. Rosso excluded from the assembly with Bush she pushes through and improvises a new question: "Why did your staff reject my question? Are you afraid of an open discourse with the students?"
Fear of an open discourse is what links Bush's visit to Amy and Ken's relationship troubles. In a moment of intimacy, Amy confesses her most closely guarded secret and provincial, inexperienced Ken has what I would describe as a moment of existential crisis. If she's still in some small way (or in some "little things") a guy, does that make Ken gay? Suddenly Ken and Amy, "Freaks and Geeks"' most stable young couple, is thrown into chaos.
Though Ken seeks advice from Rosso (and, in a really fantastic and surprising deleted scene, from Mr. Kowchevski), his moment of epiphany comes thanks to, what else, an open and frank conversation with another character who's having his own problems with a girl: Sam, who's slowly coming to the realization that life as Cindy's boyfriend ain't all it's cracked up to be. He doesn't like her friends, and all she wants to do is make out. Then the final straw: she doesn't laugh once at "The Jerk." When Sam and Ken bump into each other in the bathroom before Bush's speech, Sam's complaints about Cindy remind Ken why he likes Amy regardless of intersexual confusion. In a rare moment of happiness and triumph on "Freaks and Geeks" Ken apologizes profusely and asks for a second chance, which Amy happily gives him. Of course, in a typical moment of undercutting sweetness with humor on "Freaks and Geeks," Seth Rogen knocks his head on Campbell's tuba when he moves in for a kiss.
No such happy ending for Sam and Cindy though which, in many ways, is the relationship that defines the entire series (Since it lasted only 18 episodes, this show could only be defined by a relationship that ends badly). Alison, what do you make of their breakup and of the obvious parallels between Sam and Cindy's problems and Lindsay and Nick's?
Alison: Completely agreed that "Freaks & Geeks" could only be defined by an unhappy relationship — not just because of the creators' own eventual unhappy relationship with their network, but because it would go against the nature of the show to cut away after two characters' joyous coming together. That's where the real story starts. And after years of pining and always slightly surprised "Oh! Hey, Cindy"s, it was inevitable that if Sam and Cindy somehow actually got together, their relationship was doomed.
Firstly, there's always going to be a major gap between your idealized crush and the more complicated, farting, Republican reality you were too starry-eyed and far away to see before. Secondly, they're terribly mismatched. There's a reason any nerd-manages-to-date-the-cheerleader storyline tends to end with the first kiss — what would they have to talk about afterward? Cindy's together with Sam, as she tells him when he breaks things off, because "you're supposed to be nice, that's the only reason I'm going out with you in the first place." Their relationship is founded on her assuming he's going to be so grateful that she deemed to date him that he would never do anything to upset or displease her. And while would-be ladies' man Neal claims he'd be perfectly content to be with a pretty girl with whom he had nothing in common, Sam heeds the advice Lindsay gives him, that "you can't just keep dating someone if you don't like them."
Interesting that the Weir siblings both ended up in relationships in which the other partner was the aggressor. Lindsay ends up the unwilling target for Nick's bunny-boiling, Styx-singing suffocating adoration, and Sam here becomes embroiled in a vaguely, amusingly D/s affair with Cindy, in which she gets upset when he tries to do anything other than accompany her where she pleases, and reacts angrily when he hides the hickey she gives him as proof of ownership. In both cases, friends react badly when the desire for a break-up is mentioned, for Lindsay because the other freaks think Nick will fall apart, and for Sam because Neal can't imagine someone's attractiveness not taking precedent over their personality. And Cindy does turn out to be pretty awful in this episode, with her thoughts on the laziness of poor people and her need for gifts to cost a lot of money, though the unfortunate timing of Sam's break-up does lead to a typically funny-sad "Freaks and Geeks" moment in which she gives a teary intro to the VP.
We've discussed before how relatively little Seth Rogen we get in this series, considering his later fame, but this episode highlights the actor's ability to project doofus charm like none other. He's so good at showing normally sarcastic Ken's absolutely earnest desire to figure out what he should do next — first he confides in his best friends, who seem just as clueless about the situation as he is, and then in Mr. Rosso, who ends up taking more time affirming his own heterosexuality than addressing why Ken is questioning his. And then, brilliantly, he attempts to explore his sexuality by way of stereotypical music choices, trying out some David Bowie, then nodding along to some heavy metal, and finally, skeptically, taking in Linda Clifford's disco interpretation of "If My Friends Could See Me Now." He studies with great seriousness Boudoir and Playpen magazine to see if one appeals to him more than the other.
Matt, "The Little Things" is often described as the episode that launched Rogen's movie career, with Judd Apatow spotting some real star quality in this performance — do you see the same? And what do you think of Ben Stiller's guest spot as the career-questioning Secret Service agent?