The Hours Spend Half An Hour With '360 Sessions'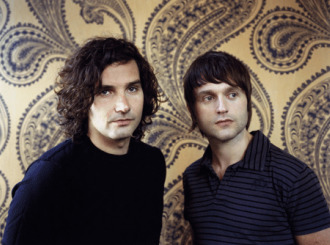 Posted by Melissa Locker on
The Hours' Antony Genn and Martin Slattery are pretty much rock-and-roll royalty. While they don't have the pedigree of a Jagger, Lennon, or Bowie, the duo has worked their way into some of the most prestigious rock outfits around.
Antony Genn started down the road of stardom when he joined the seminal Brit Pop band, Pulp. His age? 16 years old. Algebra, just didn't stand a chance. He also played with pop band Elastica before joining former Clash frontman Joe Strummer's backing band, the Mescaleros where he met Martin Slattery.
The Hours have made a name for themselves with their upbeat piano-centric rock songs backed with dancy drumbeats, thoughtful lyrics, and well-blended vocal harmonies. The band is also known for their collaboration with British artist Damien Hirst, who designed the band's skull-with-clock-eyes logo.
Their second album, See the Light, was produced by Flood. People who spend time reading the liner notes of albums will recognize him as the skilled producer behind U2, Depeche Mode, and the Smashing Pumpkins. The Hours actually opened for U2 during their 360 Tour. See what we mean about rock royalty?
Rumor has it that their latest album, It's Not How You Start, It's How You Finish, will be released digitally through their label Adeline Records in the U.S. today.
In tonight's episode of the IFC original show 360 Sessions, the duo takes us with them as they tour UK radio stations, performing songs, and telling stories. Since this is rock n' roll, we take a little break at the local pub, too. Tune in tonight at 9:30 p.m. ET to see how it all ends.