The Five Worst Heather Graham Movies (So Far)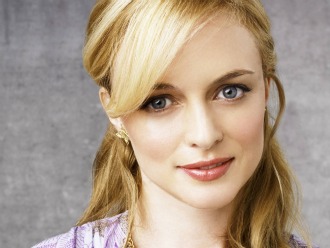 Posted by Melissa Locker on
On tonight's episode of Arrested Development, Heather Graham guest stars as George Michael Bluth's ethics teacher who tempts Michael into unethical behavior. We started thinking of Heather Graham's career arc and, to put it bluntly, she's no Sarah Polley. While Ms. Polley seems to have a knack for picking roles in excellent movies, Ms. Graham career GPS always seems on the brink of driving her into a creek. She even turned down a role in Heathers, yet accepted one in Committed. Choices, Heather!
While we would never fault someone for doing what it takes to pay the rent, we would definitely fault someone for signing onto Miss Conception. Heather has been made a few good career moves lately, notably her roles in Arrested Development , Scrubs, and The Hangover. But for every part in Boogie Nights, there are two Two Girls and a Guy. To entertain ourselves as we wait for Arrested Development to air at 10 p.m. ET, we're counting down the five worst films that Ms. Graham has starred in*. (* So far)
In Miss Conception, Heather Graham stars as a quirky Londoner (yes, there's an accent) who gets the unlikely news that she has only one viable egg left in her entire body and she has exactly one month to use it or lose it. The one word review? NO :
In Cake, Heather stars as a travel writer forced to take over her ailing father's wedding magazine. As she puts it, "It's a shrine to commitment and [she's] a slut." Sounds like fun for the whole family right? WRONG. Fun for no one.
The best thing about Heather Graham's involvement in the ghastly The Oh in Ohio is that her role as a clerk in a sex shop is uncredited. Still, Heather, that's how you want to spend your free time? Parker Posey, Paul Rudd? You have no excuse for starring in this frigid film:
In yet another of Heather's wacky pregnancy hijinks oeuvre, she and Jerry O'Connell star in Baby on Board, which is a sort of War of the Roses plus baby dramedy. The vast number of fat jokes are the high point:
Heather's decision to star in Blessed is such an obvious low point for the star that we're almost tempted to not kick her while she's down. But, what the heck: In Blessed, Heather is once again pregnant, but this time she's been knocked up by The Devil himself. Those crazy fertility clinics are always getting up to something. While Heather may have thought she was signing up for the next Rosemary's Baby, it was more like a sad Keanu Reeves movie meets the early 00s television show Point Pleasant. And not in a good way.