Revived and Derived: "Freaks and Geeks" Ep. 16, "Smooching and Mooching"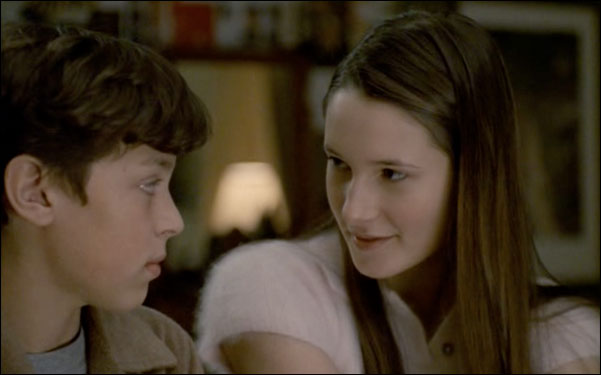 Posted by Alison Willmore on
"Freaks and Geeks" is now airing on IFC, and we thought we'd take this opportunity to revisit the show that launched a thousand bromance movies. Every week, Matt Singer and Alison Willmore will be offering their thoughts on that night's episode.
Episode 16
Smooching and Mooching
Written by Steve Bannos
Directed by Jake Kasdan
"That's one cult I wouldn't mind joining." — Neal
Of all the storylines that would have benefited from more space to breathe as we near the end of "Freaks and Geeks," I think that Sam's, in this episode, could have most used a few episodes over which to build. But "Smooching and Mooching" is the third to last episode of the series, and at this point the creators were obviously just trying to fit in as many of their best ideas as possible. And so we see Neal's thwarted spin the bottle expertise, Bill ending up in the closet with Vicki Appleby (Joanna García), Nick staying at and hanging out with the Weirs, and Sam finally getting together with his dream girl Cindy.
Does the last have a touch of nerd wish fulfillment? A little, though in typical "Freaks and Geeks" fashion, it comes with a brutal twist that will be unveiled in the next episode. (Bill making out with the head cheerleader is much more blatant wish fulfillment, but it's handled so sweetly that I adore it anyway.) And there's been foreshadowing of the ways in which Cindy is more complicated and less perfect than Sam's idealized conception of her, in lab partner Bill's glimpse into her home life in "Girlfriends and Boyfriend," and in this episode's troubling declaration that Cindy wants to get together with Sam because "I never date nice guys. I should try it, I think I deserve to." After experiencing heartbreak and apparent handsiness from Todd Schellinger, Cindy's looking for someone to adore her completely and treat her well — a relationship that's safe, at least for her, and one that she'll be able to control. The future doesn't look bright for Sam in that scenario.
But for now, for a little while, things looks great for the geeks, with Sam overcoming his insecurities and, with no small amount of guidance from Cindy, asking his longterm crush out and getting to kiss her (and I love John Francis Daley's alarmed face and flopping legs as she pushes him down on the bed), and Bill overcoming his aversion to French kissing thanks to Vicki's expertise. Poor Neal, after all that practice with the bottle and that test peck on Morty the ventriloquist's figure from "Noshing and Moshing," can't replicate his accuracy at home (my guess — different carpet texture) and ends up alone. He most deserves the great tune playing during the spin the bottle scene, Warren Zevon's "Poor, Poor Pitiful Me."
As unlikely as the pairing of Vicki and Bill is, I like how it's handled here, with Bill's fears of being treated as repellent by the girls forced into contact with him by the inescapable power of a party game ("I just don't want to see the expression of their face when they see that the bottle lands on me") all being realized. Vicki grimaces and rolls her eyes and can only bring herself to offer him her hand and then her cheek, and Bill puts her in her place when chance compels them to spend seven minutes in heaven, calling her out on her behavior and telling her how little interest he has in touching her. The conversation they have after — with Bill asking "What's it like being pretty?" — is funny and heartbreaking and another quintessential moment for the character, another of those startling, moving instances of honesty that this show does so well.
Speaking of honesty, Matt, Nick's stint as houseguest of the Weirs brings out some wonderful openness from Harold, who obviously sees in Nick a bit of himself as a boy, and who explains to Lindsay why he will always see her as his daughter foremost and someone to be protected. What did you make of his unexpected compassion for Nick and what it implies about his relationship with his own father?
Matt: It's a wonderful series of scenes, and perfectly in keeping with the primarily theme of "Smooching and Mooching" (and one of the main themes of "Freaks and Geeks" as a whole): people aren't always who we think they are. Vicki isn't quite the snob she appears to be, Cindi isn't quite the uncomplicated pretty girl she appears to be, and, yes, Mr. Weir isn't quite the tyrannical patriarch he often appears to be. I love that his kindness to Nick — letting him stay on the Weir family couch for a few days, complimenting his smarts — is tempered by his trademark brutal honesty. Mr. Weir feels bad for Nick because his father treated him in a similar way. But that doesn't mean he won't call him on his laziness. When Nick's rock music interrupts the Weirs' "quiet hour," Harold gives Nick some straight talk. Listening to rock music isn't homework for a drummer, as Nick claims, it's procrastination; practicing the drums would be homework. And if your father took your drums, as Nick's dad did? Take your sticks and practice on something else. It's great advice, particularly when you consider that by giving it Mr. Weir is actively and knowingly encouraging Nick to make more noise in his house, not less.
Though I feel like we could say this every week in this column (and practically do), this is one of my very favorite episodes of "Freaks and Geeks." It's got that perfect blend of sweetness and sadness (sort of the televisual equivalent of a Sour Patch Kid), with amazing characters and compelling storylines. And even though there's no doubt the Sam and Cindy relationship gets compressed, the show still found time to dawdle. I love the scene, for example, where the geeks debate which movie is superior: "Caddyshack" or "The Jerk" (My vote: "Caddyshack," though it's close). It serves no narrative purpose, and it doesn't contribute to our knowledge of the characters (unless I'm missing how Neal being able to recite the terrible third act of "Stripes" enriches our understanding of his struggle with his parents' divorce). But it's a faithful recreation of a conversation that thousands of geeks have had in thousands of high school cafeteria about thousands of movies. It reminds us that high school is high drama, but it's also about trivial conversations with your buddies like that one.
Details like that that make the series special. You can tell "Freaks and Geeks" was made by people who cared, simply by paying attention to the work on those details, the things that don't need to be there, but are. Watching the background on "Freaks and Geeks" always pays off. For example, check out the TV stand behind Bill while Neal teaches him how to play (and cheat at) spin the bottle. Notice the stack of board games. Observe their titles: Risk and Probe. Now consider the content of Neal and Bill's conversation (as well as Bill's pathological fear of French kisses). Alison, that can't be a coincidence, no?