'Slayground': The Hits and Misses of Peter Coyote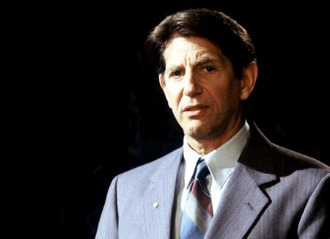 Posted by Melissa Locker on
In Slayground (which airs tonight at 8 p.m. ET) Peter Coyote plays a thief on the run after a burglary turns into an accidental murder. While the movie never made many waves, it is a fitting milieu for Peter Coyote, who rather undeservedly has also not made that many waves, despite having been an actor for over twenty years.
He's been in some great films, that should have catapulted him at least into the Ian McKellan or William H. Macy realm, but for some reason, Mr. Coyote seems stuck in the same orbit as Vincent D'Onofrio. In honor of Slayground airing on IFC, we're taking a quick survey of the career of Peter Coyote.
E.T. was one of the most important films of its generation. It was in turns funny, scary and magical. And while Peter Coyote didn't have a big role, the part should have been a stepping stone to bigger and better things. Or at least bigger and better Steven Spielberg movies.
Instead he went on to roles in Slayground, The Legend of Billie Jean (Helen Slater is another star with an inexplicable career path), and Jagged Edge, before eventually landing one of the leads in Bitter Moon. In that film, Peter Coyote got to work with acclaimed director (now, fugitive) Roman Polanski alongside Hugh Grant, Kristin Scott Thomas, and French beauty Emmanuelle Seigner. This should have been his big break into Hollywood stardom, like it was for Hugh Grant:
Instead of catapulting him into the realms of stardom, he went onto play parts in not very exciting television shows (does anyone even remember Buffalo Girls?) and (gasp!) made for tv movies. Not to disparage an actor getting a paycheck, but in the words of Marlon Brando in On the Waterfront, Peter Coyote coulda been a contender. Eventually Mr. Coyote got cast in Michael Crichton's Sphere:
But the role of Capt. Harold C. Barnes lead to more tv movies and (sigh…) Patch Adams. Then there was another string of made-for-tv movies before he was cast in A Walk to Remember, which may have been a Mandy Moore vehicle based on a Nicholas Sparks novel, but was a big hit, which lead to his best role yet. Okay, not really, but as JJL Chief Bloomenbergensteinenthal in The Hebrew Hammer Peter Coyote explored his right to be silly and he managed it with the aplomb and dignity required for the role. Shabbat Shalom, MotherF@#kers!
Peter Coyote appears to have come into his own in television shows. After his role in The Hebrew Hammer, he got a part in the tragically abbreviated Deadwood. He has done excellent work in The 4400, Commander in Chief, and he was on Brothers & Sisters. After roles in almost every incarnation of Law & Order, now he has been cast as the slightly skeevy district attorney in Law & Order: Los Angeles. And there's nothing wrong with that.
Slayground airs on IFC at 8 p.m. ET