Exclusive Premiere: Sharon Jones & The Dap-Kings "Game Gets Old: the Trilogy"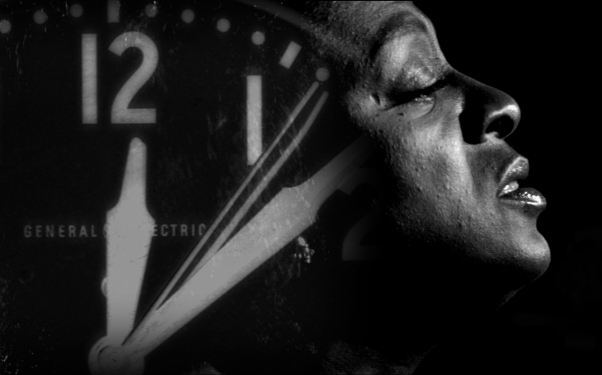 Posted by Brandon Kim on
If you've ever heard the needle dropped on a Sharon Jones & The Dap-Kings 45, you know how expertly their music invokes the sounds of 60's and early 70's soul. And if you've ever seen them live, you know how effortlessly they can transport you there, like well-dressed deep soul time travelers. Director Philip Di Fiore captured this phenomenon in a three-part short film, which we have here for the first time in it's entirety, "Game Gets Old: the Trilogy."
Feast on that below and then read the chat I had with Sharon Jones over the phone while she was in Queens with her Mom — we had to put our conversation on hold more than once while Jones took care of business and looked after her Mom's health. It's plain that she's still struggling after all these years but she and independent Brooklyn label, Daptone, have come very far sticking to their guns. We talked about that, along with Martin Luther King, how the Dap-Kings would never touch Auto-Tune, and this dreamy memory she has of seeing James Brown perform in a little club in 1969.

You might remember me from the old days, when I was booking you up in Milwaukee, back in like '03, just before you guys started really blowing up outside of NY. You've come a long way since then.
You know, we did so many shows, but yeah. Yeah, one of the first ones that got us out there, get us started in the Midwest, and then stuff started happening. Oh, yes we finally, we've come a long way. And we still have a long way to go, but yeah. Thank you.
Back then you guys were cutting 45's like "Make it Good to Me" that I still keep right next to the turntable, it's so good. How has your sound changed since then?
Yeah, I haven't sang that song in a long time, too! [laugh] I think, we've changed over the years, from 2003 to now, definitely changed. The band has gotten stronger. The band has gotten tighter. Because, at that time, the drummer was still messing up beats, still learning how to hold a beat, you know? [laughter] And I mean, I remember the first two years, it took him a while, you know, to get the hang of things. So um, yeah, I think we've come along a little bit. You know we, by listening to all these old classics over the years, we just got more ideas. We've got the horns, and then we got violins. Strings to me just add, they make it sweet, you know? We've matured. We've grown.
You grew up in James Brown's hometown in Georgia right?
Actually, I was born in Augusta, but I really grew up in New York. You know, my mom would let us go back south during the summers, after I turned like uh, maybe 7. You know you start going to school she would let us go back and forth every summer, to spend some time with my father.
Ah so just part time. What kind of impression did that town and James Brown leave on you?
One particular year, we had, went down there one of those summers and James Brown showed up at this small little club. I remember him showing up, I was standing at the bottom of the stage. And I know at the time, my father was still alive, I was about 13. I'm standing there, eye level to the stage, and I remember, James Brown coming on — he just floated clear across the stage. And I was like, "Look Daddy, he's floating!" [laughter] So years later in New York when these guys [The Dap-Kings] were doing this James Brown, JB's thing and wanted me to come in and sing for them it was right up my alley. That's what got them started with the funk, you know, that was the era of funk we started with.
I don't know if you'll go there for me but, who's your favorite Dap-King?
I don't, my favorite Dap-King? I don't have a favorite. [laugh] I don't have a favorite one, because we're a band, we're like a family, you know? I mean, you know what? Maybe, I don't want to make anyone feel bad, but if it wasn't for this Dap-King I wouldn't be with them. And that's Gabe Roth.
You guys have been collaborating with others in recent years, like Amy Winehouse. How are you feeling about her these days?
Well that whole thing was great I mean that, if you really look at it, it put Daptone on the map, people started noticing. Mark [Ronson, who produced Amy Winehouse's critically acclaimed 2006 record "Back to Black," heavily featuring the Dap-Kings] already knew about us, Amy [Winehouse] too. You know we been out here since the late 90's, and all this stuff that happened in 2005. Whether they admit it we inspired all this new soul stuff. It's all good. They won an award for that, but we'll get ours in our own due time.
Who you looking forward to making music with in the future, any projects in the works?
Whoever wants to come! I mean, look at the, the thing with Michael Bublé. That, that was a big plus with his album and [the song] "Baby (You've Got What It Takes)." Um, David Byrne, you know? I've done something with Booker T. I did something collaborating with him on a couple of songs, that's not out yet. I know I'm missing names. We also did this thing, Night of Too Many Stars with Comedy Central for autism. All these movie stars, and actors, and comedians, doing this show, I was thrilled. I would love to do a movie. Maybe we can do a whole soundtrack of a movie. You never know.
Well you did some sound track work for Denzel Washington's film "The Great Debaters."
Yes I have some songs on that soundtrack. And it sounds great!
How did that come about?
You know that was SXSW. And that particular year I didn't want to do it, lot of young kids, and we got to pay for this and that, the hotel, but it was all worth it. Somebody saw me there and then when Denzel was looking for singer, somebody said, "I know this band with a great singer, Sharon Jones & the Dap-Kings." They got in touch with my manager and had me sing this song, "I Need a Little Sugar in My Bowl." Denzel saw that and next thing I know he said, "I want her." So that's how I got that, by doing a gig at SXSW.
I love the look of this film you guys did with Phillip Di Fiore, the vintage feel it has, how it invokes old Stax and Blue Note record covers.
Yeah it looks cool. When Phillip brought that idea to us, not everyone got it, you know with the knife, that big knife I have [laughter] but I got it. And everyone looks so good.
You guys don't just have a vintage sound, you live it. And I've seen you all dressed up to go out, you even look like you walked out of the late 60's.
[laughs] Oh yeah I used to go to the vintage stores, buy all my dresses, but I haven't been there in years. I have all that stuff made for me like that now.
I caught you on the "Colbert Report" a few months back and you seemed firmly against modernizing your approach. What do you think about all these kids these days listening to music on phones and shit. You all right with that?
Yeah, I mean, we're doing our own thing but that's all right. That's modern times. That's how a lot of kids are hearing us, so that's all right. But, we're sticking to our own thing.
What about Auto-Tune, would we ever Sharon Jones and the Dap Kings put through Auto-Tune?
[laughs] No, not Daptone, we're not interested.
Over Gabe Roth and Neal Sugarman's dead bodies?
Oh my God, I wouldn't even, I wouldn't even ask. Oh my God. I'd have to go into somebody else's record label and sing with somebody else to be singing Auto-Tune soul [laughter].
If you could live inside of a film, what film would that be?
Oh that's something to think about [laugh]. You know what? I would say this, something that I missed coming up, you made me think — that film would be — when they filmed Martin Luther King doing his "I Have a Dream" speech. I wasn't there you know? And I never got a chance to be around 'cause I was young. Just to be near that man, right beside him, while he was doing that speech.