There's No 'Twilight' In The 'Shadow of the Vampire'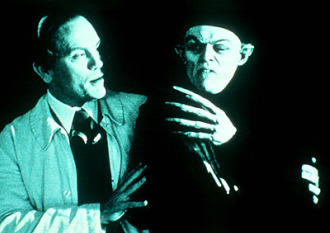 Posted by Melissa Locker on
We're hanging up garlic and whittling stakes all month long as Indie Screams continues. Tonight we are taking a turn from the grisly (yeah, we're talking about you Hostel) and heading back to the ghastly. Shadow of the Vampire tells the tale of a filmmaker who prizes realism above all else, seemingly including the lives of his crew.
In 1922, F.W. Murnau's haunting Nosferatu was released starring an unknown actor named Max Schreck as Count Orloff, the vampire. Eighty years later, E. Elias Merhige directed a film imagining the goings on behind the making of that film. John Malkovich is director F.W. Murnau who craves realism to the extent that he casts a real vampire as his star. (Top that, Dogme 95.) Willem Dafoe's Max Schreck is about as far as you can get from Robert Pattinson's Edward Cullen. To be clear, Max Schreck does not sparkle. He is rat-like, batty, slithery, and cold and Willem Dafoe owns him. H
The film is a strange conceit of a fictionalized account of a real movie. Yet somehow Merhige and writer Steven Katz manage to pull it off, making both their own vampire movie while telling the tale of someone else's. Shadow of the Vampire is in turns funny, gruesome, dark and driven with a director's passion for his own legacy. It's a combination that would make both Dario Argento and Mel Brooks proud. More important, perhaps, it's a film that would make even the most devout Twilight fan finally realize that vampires do not make good life partners.
Watch the trailer below and you just might find a clue to help you answer the daily Indie Screams trivia question we're playing on Twitter:
Shadow of the Vampire airs on IFC at midnight ET. Bring your own garlic.