Scott Pilgrim Game Sharpens Its Knives with New DLC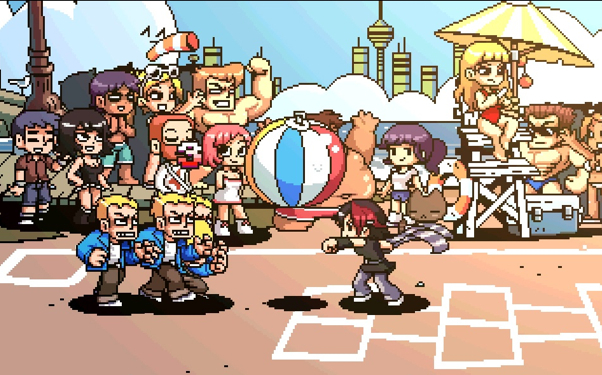 Posted by Evan Narcisse on
As poorly as the "Scott Pilgrim vs. the World" movie performed in theaters, gamers at least got a chance to play a fun, retro-styled video game filled with inside jokes from the original Bryan Lee O'Malley comics. The side-scrolling beat-em-up had players controlling Scott and other members of indie hopeful band Sex Bob-omb as they attempted to thrash Ramona Flowers' seven evil exes. One of the support characters players could call in to help kick butt was Knives Chau, the 17-year-old obsessed with Scot even after he dumped her.
Ubisoft's just announced a new downloadable content extension that makes Knives playable and that also adds two new modes to the game. Battle Royale happens on a raised platform littered with weapons where the goal is to knock of players off, and it's game over for lamers who can't get back on the platform in ten seconds. A giant beach ball's the only thing that will harm the advancing swarms of goons in the Dodgeball Mode and players kick, punch or throw it to survive as long as they can.
Sadly, one feature that won't be coming to "SPvTW" is online co-op, meaning that you'l have to get everyone on one couch if you want to play with others. The new Scott Pilgrim game DLC will cost $1.99 on the Playstation Network and 160 Microsoft points on Xbox Live and should coincide with the movie's release on DVD in November.