Sam Rockwell Speaks With "Conviction"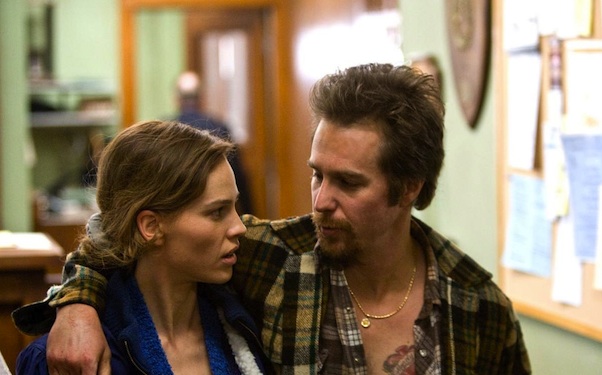 Posted by Matt Singer on
The new film "Conviction" tells one of those stories so incredible no screenwriter on their best day could invent it. After her brother Kenny went to prison for a murder he didn't commit, Betty Anne Waters (Hilary Swank) devoted almost two decades of her life to freeing him. She earned her GED, then a college degree, then a law degree, so she could represent him in court when no one else would. In other words, "Conviction" is one of those movies that's "based on true events," a phrase that made Sam Rockwell, who plays Kenny, chuckle when it came up during our conversation. Why? "When my girlfriend sees horror movies that say 'Based on true events,' she always goes 'Honey, it's based on true events, I can't see it!'"
Obviously the true events tag didn't stop Rockwell from taking on this project, which is another in a series of interesting performances he's given in recent films about fallen family men, including "Moon" and "Snow Angels." I asked Rockwell why he's drawn to these parts and to working with actors-turned-directors (like "Conviction" director Tony Goldwyn), and what he dances to when he's got to pretend like he's rocking out onscreen.
You don't look the real Kenny Waters, right?
No.
He was a bigger man.
Yes. I only had three or four weeks to prepare, and there was just not enough time to get into that kind of shape. Otherwise it would have been a "Nutty Professor" thing — which I actually think Eddie Murphy should have gotten an Oscar for. I tried to lift a few weights, but it just didn't take.
I ask because I was wondering if you prefer it that way because you don't have a responsibility to look exactly like this guy. You can use your physicality to help express who this guy is.
It is nice. Tony [Goldwyn] and I did talk about shaving my head [like the real Kenny Waters]. But I was going to do "Iron Man 2" right after, and I had committed to "Iron Man" before this so I couldn't shave my head. I bulked up a little for some of the scenes. But mainly I wanted the guy to look kind of sinewy as a young man and then we wanted to make him look bulky later. So we did some things with tightening my clothing and I pushed my belly out in a couple of the scenes. The makeup artist, Vivian Baker, was pretty amazing. With the budget she had, I think she did a pretty incredible job. We did some tricks with the hair, accentuating the receding hairline and all that stuff. But Vivian should get a lot of credit.
You've talked in the past about watching movies as part of your preparation for roles. What did you watch for this one? A lot of prison movies, I'm guessing.

Absolutely. I watched all that stuff. "The Hurricane," "Dead Man Walking," "American Me." But I caution young actors against doing that too much because you don't want to start mimicking other actors. You don't want to be a carbon copy of a carbon copy. In acting terms, we talk in actions and verbs; what are you "doing" in this scene? Because you should always be active. That's why they call it acting, not reacting. And I think when you're watching movies you're shopping for actions. And so you're not necessarily mimicking the actor, you're stealing actions, which is your arsenal in a scene.
There's a theme that's popped up repeatedly in your films lately, and it's certainly present in "Conviction." You keep playing men who are separated and isolated from their families. Is that something you're actively trying to explore in your work? Were these just the best projects you were offered? Or do you make one and people see it and start saying "Hey, I think Sam Rockwell would be good for this role."

[laughs] I think Tony and Hilary [Swank] mainly saw and responded to "Lawn Dogs," another isolated dude I played. I guess I'm drawn to those parts, and they find me. They keep pulling me back in. I don't know. I guess they remind me of some of the films that really made an impression on me as a kid and that I rewatched as adult later on. And I saw these films at a very young age, which may say something about me. "Taxi Driver," "The Deer Hunter," "One Flew Over the Cuckoo's Nest," "Alien," "Blue Collar," "Badlands," "The Last Detail," "Midnight Cowboy." These films had a big effect on me. I'm sort of a film geek for all the films of the 1970s. I still maintain that was the best decade of American film.
You're working with an actor turned director here, in Tony Goldwyn. That's also something you've done quite a lot lately.

Yeah.
Do you seek out those collaborations with actor/directors?
Yeah, I guess I do…Clark [Gregg, director of "Choke"], Tony…
Jon Favreau, twice [on "Iron Man 2" and the upcoming "Cowboys and Aliens"]. Some guy named George Clooney who's done a couple projects [like "Confessions of a Dangerous Mind"].

Yeah, that dude. A lot of good looking funny guys. And they're all very compassionate toward the actor's process. Including the "movie star" George Clooney, because he struggled a lot as a young actor. He had a lot of lean years before he became "George Clooney." That builds character, I think. And Tony's the same way.
WARNING: The next question contains spoilers about what happened to the real Kenny after the events of the film.
Reading the press notes after watching the film I was sort of devastated to learn that the real Kenny passed away six months after his release from prison. Was there ever a discussion about putting that into the actual film?
It was a discussion. They played around with putting it in the end text crawl. I think they were testing it, and people loved the movie but when they saw that they would be completely devastated. And it wasn't really what the movie was about. Not to be corny, but the movie's about the transcendent power of love. It's about this relationship between these two people and it's about his freedom. So that was just not punctuating the film in the way that they wanted. Tony struggled with that decision a lot.
You have a terrific scene at the beginning of the movie in a bar where you get into a fight with a guy and then you do this crazy dance and striptease to "My Sharona." How much of that is the script and how much of that is you creating that on the set?
The script by Pam [Gray] was really solid. And all the dialogue was verbatim. The only thing I maybe ad-libbed was [in a Boston accent] "Now it's a pahty!" or something like that. And I wanted to have those sunglasses because I felt that would make it more playful in a realistic way.
When you're doing a scene like that, what's the set like? Do they play "My Sharona?" Or any music at all?
I had them play James Brown, and I had them play a song from "Mean Streets. And I actually was copying De Niro a little. It's after he shoots the guy at the end of the movie, and there's this song playing in the car, "Mickey's Monkey" by The Miracles. And so I was clinging to that image, and I copied a little bit of that. And I did a lot of fancy dancing that thank God they cut because it just wasn't realistic.
I went to see "A Behanding in Spokane," on Broadway in which you starred opposite Christopher Walken. Is it fun or terrifying to have to act opposite that guy on stage?
[The publicist enters the room to tell us our time's up.]
Yeah, yeah, I'll just say he's brilliant and he likes surprises and he loves to play. And I love to play too. We had a blast.
Do you have any good Walken stories from the experience?


I do, but we'd be here for like five days.