Thumbing Our Noses At Roger Ebert Haters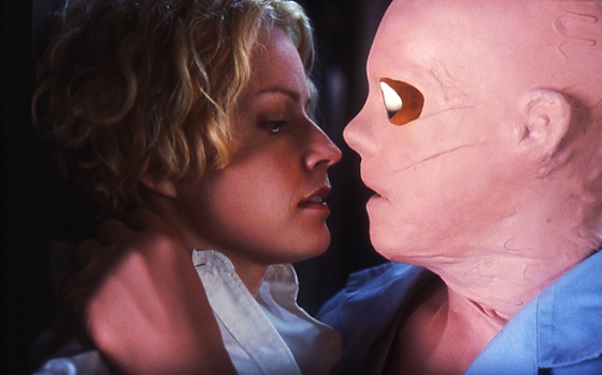 Posted by Matt Singer on
Yesterday on the online culture magazine The Rumpus — a site I've contributed to in the past — a writer by the name of Larry Fahey wrote a piece entitled "All Thumbs: Roger Ebert and the Decline of Film Criticism". The article begins with the sentence "I hate Roger Ebert," and goes on to outline how Ebert has destroyed not only film criticism, but also filmmaking, and life as we know it. Fahey begins by delineating two different kinds of critics, those who approach movies as art and those who approach them as products. Into the former category, Fahey places writers like Anthony Lane and Stanley Kauffmann. Into the latter, he places Rex Reed, Leonard Maltin, Gene Shalit, and worst of all Ebert, who is, in Fahey's estimation:
"…the kind [of critic] that sees movies as products, like cell phones or refrigerators or spatulas. These critics consider it their responsibility not to inspire debate or thought, not to use their cinematic expertise to give the reader insight. Rather, they want to judge a film's fitness for purchase, recommend that a moviegoer either should or should not spend his or her money on the product. These critics are easy to spot. Every newspaper has at least one. They use a lot of puns when they dislike a film. They usually employ a grading system — a letter grade if they want to seem really nuanced, a ten-star scale if they want to make only a passing nod to intelligence, four stars if they're especially simple-minded."
Fahey particularly dislikes the "thumbs up" or "thumbs down" rating system on Ebert's longtime movie review show with colleague Gene Siskel. Fahey claims he's interested in criticism that judges films "subjectively, with meanings and values unique to each individual viewer." "If you're really interested in film analysis," says Fahey, "the 'Siskel and Ebert' approach, adopted by most mainstream critics, is about as interesting as a Consumer Reports dot chart."
Reading Fahey's piece, I get the sense that the author doesn't really know much about the guy he supposedly hates. Certainly "Two Thumbs Up!" became the ultimate movie poster pull-quote during the show's heyday. But Fahey ignores the fact that Siskel and Ebert put that name recognition to good use championing the small films they loved. Before it had even premiered at Sundance, the pair devoted an entire segment of their show to the film "Hoop Dreams." This was a three hour documentary with no stars, the complete antithesis of the cookie cutter blockbusters Fahey wants to link the show to, and Siskel and Ebert were talking about it at a time when absolutely no one in their audience could watch it. This movie was not a spatula.
Beneath what marketers ascribed to them, "the thumbs" represented two men's subjective opinions, opinions that diverged just as often as they aligned. If Fahey really wanted to critique the show's slow evolution into a consumer guide, he should have knocked the ratings system that replaced the thumbs in recent years: "See It," "Skip It," or "Rent It." Except that came about after Ebert was forced off the show by his repeated battles with cancer so it would be tough to blame him for it.
Fahey also devotes a good portion of his article to bashing Ebert and other critics like him for dismissing B-movies because they are "just B-movies." Fahey writes:
"The term B-movie relates more to a film's budget and cast than anything else, and by criticizing a film because it's a B-movie there's a nonsensical implication that big budgets and all-star casts somehow guarantee quality."
On this point, Fahey is correct. But in order to decry the critical practice of using the term "B-movie" to describe a film's quality rather than its budget, he cites "Ebert and Roeper"'s review of "Hollow Man," a decision that is problematic for two reasons. First, Roeper, not Ebert, described "Hollow Man" as a B-movie. Plus, Roeper didn't "condescendingly call" "Hollow Man" a B-movie, as Fahey puts it, he observed that the film had "a corny plot right out of a 1950s B-movie" which it absolutely does. Worse, the counter-examples that Fahey lists as great B-movies to argue against the label's stigma include "Johnny Guitar," "Psycho," and "Touch of Evil", all titles featured in Ebert's ongoing series of critical essays and books called "The Great Movies," a project that seems like a serious waste of time for a critic who supposedly hates B-movies and is only interested in considering slick, big budget movies as consumer products. Fahey is correct that many critics reject B-movies outright without considering their many pleasures. But the people who are far more guilty of this than Ebert are the very critics Fahey claims to love: the academics and "film as art" crowd who take the medium so seriously that they have trouble finding the value in so-called "garbage." When was the last time Stanley Kauffmann wrote about a low budget zombie film?
The world of film criticism has a lot of problems these days. Many of the best older writers are out of work, and many of the best young writers are expected to work for free. Online movie writing tends toward cultish obsession and name-calling rather than reasoned argument, and the pieces that tend to garner the most traffic are the ones like Fahey's that throw the biggest bombs, rather than ones that are the most intelligent or well-written. Fahey's entitled to his opinion, just as I am to mine about his. I just wish his seemed a bit more informed.