Revived and Derived: "Freaks and Geeks" Ep. 14, "Dead Dogs and Gym Teachers"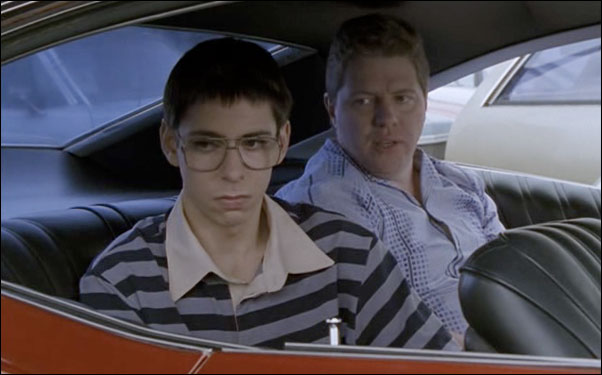 Posted by Matt Singer on
"Freaks and Geeks" is now airing on IFC, and we thought we'd take this opportunity to revisit the show that launched a thousand bromance movies. Every week, Matt Singer and Alison Willmore will be offering their thoughts on that night's episode.
Episode 14
Dead Dogs and Gym Teachers
Written by Judd Apatow & Bob Nickman
Directed by Judd Apatow
"You couldn't see through my cloud of smoke / You held my heart, now it's bloody and broke / And is your green army jacket the only thing keeping you warm tonight? / Lady L!" — Nick
Matt: There's one really important aspect of "Freaks and Geeks" that we haven't talked about enough in this column, and that's its use of music. "Dead Dogs and Gym Teachers," a streamlined but very solid episode from Judd Apatow and co-writer Bob Nickman, is a good place to bring it into our discussion because features examples of all the different ways the creators worked their favorite songs into the show.
Yes "Freaks and Geeks" had a great soundtrack (filled this week with The Who, since Lindsay and the freaks are preparing for their big concert in Detroit). But it also used music as a vehicle for comedy or personal expression. Or sometimes both: I don't know that there's any moment on "Freaks and Geeks" as simultaneously funny and revealing about character as Nick's musical tribute to Lindsay, "Lady L." In another brilliant, fearless performance, Jason Segel terribly sings and terribly accompanies himself on guitar a song whose terrible lyrics he wrote himself (terribly). Those lyrics include both obvious jokes (the one about the green army jacket always kills me) and subtle nods to continuity — the line about his "cloud of smoke" is a clear reference to Lindsay's objections to Nick's pot use last week on "Chokin' and Tokin.'"
There's also another music-as-callback-moment in the final scene between Lindsay and Millie, who nearly becomes a freak this week in the wake of her beloved dog Goliath's tragic death at the vehicularly dogslaughtering hands of Kim Kelly. Saved from the abyss of drink and Pete Townsend lyrics by Kim's last minute admission of guilt, Millie retreats to her room with with Lindsay, where the pair reminisce about Goliath to the comforting sounds of Seals and Crofts' "Summer Breeze," a perfect choice for the scene for three reasons: the song matches the conversation's nostalgic tone; it reassures us that after her flirtation with freakdom and rock and roll, Millie's retreated to geekdom and easy listening; and it's also callback to "Chokin' and Tokin,'" where Millie mentioned learning what potheads look like at a Seals and Crofts concert last summer.
The other brilliant performance this week belongs to Martin Starr. He's already proven himself "Freaks and Geeks" most dependable comic relief dozens of times over, but he surprises us this time with the strength of his dramatic chops during Bill's storyline about coming to terms with his mom's new boyfriend. In an ingenious (and also continuity-heavy) twist, Gloria Haverchuck is dating none other than McKinley gym teacher and Bill's arch-nemesis in "The Diary" Mr. Fredericks. Starr's front and center during two silent sequences: one in which Bill delights in the pleasures of solitude with a grilled cheese sandwich and "The Dinah Shore Show," and another where he smolders at the sight of a boxer-shorted Fredericks refreshing himself after sleeping with Bill's mom with a cup of orange juice he drinks out of Bill's personal mug. Alison, both moments are series' highlights for me, but which do you prefer and why?
Alison: That scene of Bill watching TV is my favorite of the two, a truly excellent mix of humor and pathos. We've seen early instances of the show turning things over to a solo Martin Starr, but it's always been for the sake of pure comedy, watching him pretend to talk on the phone in character as Jaime Sommers or reenact Cindy's squeaking chair/passing gas moment. This episode's montage of Bill coming home to what's obviously a ritual of chocolate cake, a grilled cheese sandwich and some quality time with the television is a touching ode to a latchkey childhood. It feels almost intrusive to take in Starr's unguarded laughter at Gary Shandling's unheard stand-up bit, direct to camera, around a mouthful of processed food product.
His happiness in that scene adds to our appreciation of his resentment of Coach Fredericks' appearance in his mother's life — Bill doesn't exactly have an easy time of things socially, and his comfort at home alone stands in sharp contrast to the agonies he often has to endure during the school day. Any new addition to the place that serves as his sanctuary is bound to be resented. That the addition is the guy who oversees gym class, the setting of so many geek scenes of humiliation, that he seems like someone who always has and always will fail to understand Bill, and that he might be permanent, prompts Bill to act out in a way we've never seen before.
Tom Wilson also deserves a salute for his fine work in this episode, articulating Fredericks' good intentions and his cluelessness. He may work with kids, but he doesn't have any of his own, and his half-informed attempts to befriend his girlfriend's son are additionally handicapped by the fact that he and Bill might as well speak different languages. Whether insulting the geeks' beloved Bill Murray ("the funniest man on the planet!") or running Bill off the go-kart road in the name of competition, he can't seem to help but take wrong steps, even when he's on the right path. The expression on his face in the morning-after scene is a delightful mix of wary, abashed and purposefully casual — he forces himself to make eye-contact and offer Bill some orange juice, but it takes him a few tries and some deep breaths.
The moment between Bill and Fredericks in the car has the kind of no-bullshit brilliance of "Freaks and Geeks" at its finest — one that has, notably, no background music at all. Fredericks crawls into the back seat to talk to Bill, but that's the only concession he makes in what's otherwise a brutally honest conversation that boils down to the fact that if Bill's mom wants to be with Fredericks, and if Bill wants her to be happy, then he's going to have to learn to accept the man into his life, even if they never really get along. And oh, god, Bill crying is somehow extra sad, perhaps because he has to take off those coke-bottle glasses and without them seems a different person.
Matt, if there's one aspect to this episode I have trouble with, it's how quickly Millie descends into freakdom. Does her path seem a little accelerated to you, given what we know of her character?