Recommended: Will Ferrell and Adam McKay Celebrate IMDb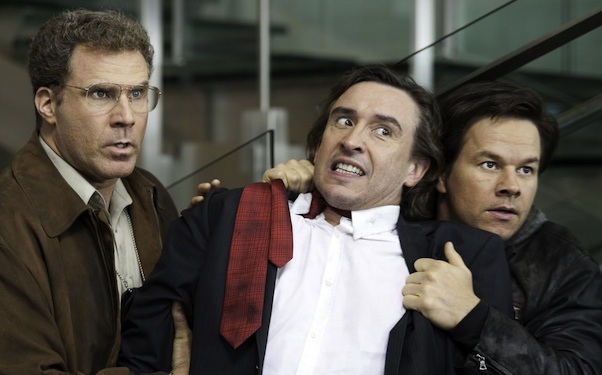 Posted by Matt Singer on
As part of its 20th anniversary, the Internet Movie Database has been presenting a series of exclusive interviews with actors and filmmakers about their work, careers and, yes, how much they love IMDb. Turns out Kevin Spacey really digs it, though it sounds to me like Oliver Stone might think IMDb is actually a person. Most of them have been a lot of fun — I particularly enjoyed hearing Jesse Eisenberg of "The Social Network" describe IMDb as "a singular site doing something that no other site does and you guys I'm sure will have a movie one day about the lawsuit that came out of the creation of IMDb.com/Pro" — but the best so far came out over the weekend, when "Anchorman" and "The Other Guys" masterminds Adam McKay and Will Ferrell popped up to celebrate our favorite movie site's china anniversary by making fun of it. As in all the previous IMDb anniversay interviews, the pair was asked a series of serious questions. McKay and Ferrell promptly ignored them and proceeded directly to the silliness. As in this exchange about whether the "internet revolution" has changed the movie industry for better or worse:
Adam McKay: Very technical question.

Will Ferrell: Yeah. Well, without the "intranet," as I like it call it…

AM: That's not the correct word though.

WF: I know. It's my flair, it's kind of my thing I bring to the table.

AM: But you know it's wrong.

WF: I don't know if it's wrong. I don't know if it's right…

AM: But definitively it is. That's not the word.
Look, I'm on record as a McKay-Ferrell apologist. I would pay to watch these guys order lunch. And they've done commentary tracks together that are essentially extended improv sessions (if you've never listened to the one on the "Step Brothers" DVD, McKay, Ferrell, and co-star and co-writer John C. Reilly sing the entire thing, completely off-the-cuff, with musical accompaniment by composer Jon Brion). But watching this clip, I really wonder why McKay always finds someone else to play Ferrell's wingman instead of just doing it himself. He's comfortable in front of the camera and their onscreen chemistry is as good as Tracy and Hepburn (improvisationally speaking course). This needs to happen.
In the meantime, do go over to IMDb, and watch all 227 glorious seconds of the interview. And stick around for the rest of the series if you haven't been watching them; they're quite good. With all this cooked up for the 20th anniversary I can't wait to see what they do next year for IMDb's 21st, when the site's legally old enough to drink. It's going to be saucy.