The History of "Night of the Living Dead" and the Fast Zombie Debate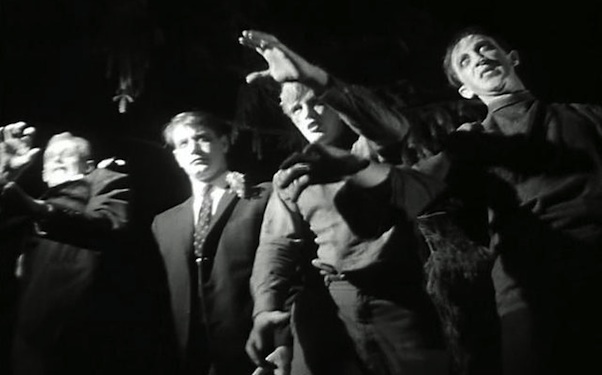 Posted by Matt Singer on
Entertainment Weekly has a lengthy history of the making of the zombie classic "Night of the Living Dead" written by Clark Collis. Would you believe that major decisions, like who would play the very first zombie in the most iconic zombie film of all time, were made totally haphazardly?
"The role of the film's first revived corpse — the so-called 'Cemetery Zombie,' whose stiff-legged jog would dictate the ambulatory speed of the ghouls in Darabont's Walking Dead — was played by a photographer and acquaintance of the Image Ten team named Bill Hinzman. 'Whenever a zombie was needed, I did the part because I had an old suit, and I was tall and skinny,' Hinzman once said. 'That opening scene was the last thing that we shot. George said, 'You look so great as a zombie, why don't you do the graveyard zombie?' So I did.'"
Of course, no article on zombie movies would be complete without tedious arguments over whether the undead should move fast or slow. Frank Darabont, executive producer of the new AMC series "The Walking Dead," weighted on the perpetual debate:
"Well, it depends on the zombie's mood. If they've recently fed, they're a little less interested, a little more shutdown. Other times, they're riled to a predatory state and can get a little faster…This all goes back, by the way, to the original 'Night of the Living Dead.' The Internet adherence to zombies never running clearly ignores the first 10 minutes of that movie. Because the first zombie you see is pretty spry. He's obviously rather hungry and worked up."
First of all, big style points for Darabont for using the Internet's twisted logic against it: zombies shouldn't run because they didn't run in Romero's zombie movies — BUT WAIT!! they totally did in that one scene. But really, seriously, honestly: who cares?!? To say there should only be one kind of zombie first of all precludes the possibility of bringing any new ideas to the property. So filmmakers should just make the same movie, with the same kind of monsters, until the end of time? Lord help us if we ever force people to make movies that way.
There's also a really ridiculous implication on both sides of this argument that there is a "real" way for zombies to act. Folks, zombies are made up. They act however they're written. And anyway, there are all kinds of vampires — some that have fangs and capes, some that glitter and have really awesome wardrobes — so why can't there be all kinds of zombies? So long as they have a remorseless craving for flesh, why be picky? Sometimes you feel like a nut, sometimes you don't.
Nerds rejecting zombies because they walk a little too briskly is just another strain of the idiotic, close-minded logic that forced thousands of people to work themselves into a frenzy about Spider-Man having organic web-shooters in Sam Raimi's Spidey movie. Unless he's swinging around on his own prehensile armpit hairs, what's the difference? "Night of the Living Dead" is a masterpiece, and "28 Days Later" is pretty damn close to one even though their zombies are very different monsters. Isn't that a good thing? I thought diversity and original thinking were good things in movies, not bad. In this regard, we should behave as zombies: we should crave the brains.