Recommended: The Controversial Saga of the Zombie Massage Makers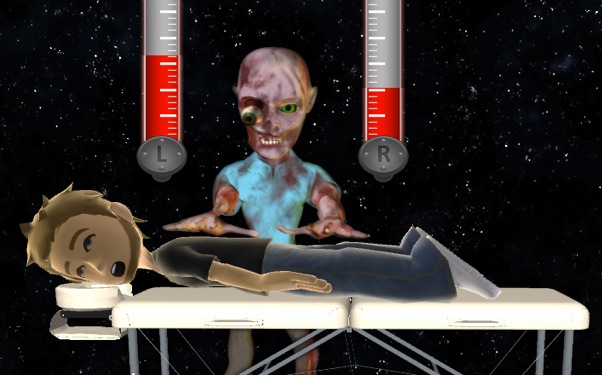 Posted by Evan Narcisse on
You thought "Medal of Honor" had controversy with the Taliban? Pfffff. Kotaku's Stephen Totilo serves up a feature that illustrates that there's no controversy like indie game developer controversy.
The piece concerns one Jeremy Eden, a twentysomething upstart game designer who figured that he'd fell upon a money-making formula of game content:
Jeremy Eden believed this past summer that he had concocted the recipe for a hit. It would be, he and the rest of JForce games thought, their second big success.

This great new thing would be a cheap downloadable Xbox game, of sorts, that would satisfy the public's proven appetite for three things the public had already shown — statistically — it loved: Xbox avatars, zombies and massage.
The tale unfolds in a sometimes-ignored corner of the Xbox landscape, namely the console's Xbox Live Indie Games Channel. Aspiring developers can use Microsoft's XNA technology toolset to build games which are then voted on by their colleagues. This peer-based submission process leads to a lucky few games being disseminated widely for possible purchase to millions of consoles. But, Eden ran afoul of the other gamemakers.
In August he posted a message on the XNA Creators Club message board, a forum where he would be talking to his fellow independent game developers. These developers were the people who had the power to get his Eden's onto the Xbox 360. He titled his post: So we made another massage game. He introduced his fellow developers to Avatar Zombie Massage Online 2 (there is no AZMO 1) with a letter announcing that his team, JForce Games, was reaching for big dollars: "So yeah, this is the epitome of a shameless cash-grab," he wrote. "here's no doubt in my mind that it'll be a top-seller. Most of you should agree with this."
Needless to say, they did not. Totilo's great piece not only spotlights the stratification amongst indie devs, it also talks about the kind of oversight Microsoft provides to this distribution outlet. It's a great recounting of one young man's journey from surfeit hit slow-motion train wreck. Go read it.