Recommended: Interview With Composer A.R. Rahman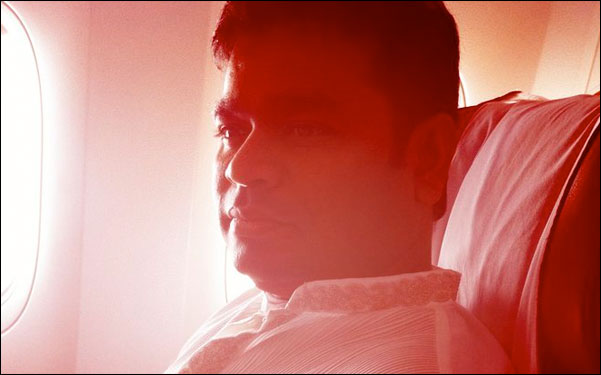 Posted by Brandon Kim on
Director Danny Boyle tapped Indian composer A.R. Rahman again to score "127 Hours" after the wild success they had together with "Slumdog Millionaire," for which Rahman won two Oscars (he took both of 2009's Best score and Best song).
Sheila Roberts interviewed the hot composer for Collider about this new found friendship with Boyle, and scoring his latest film — staring James Franco as a man who must resort to the most drastic measures to survive alone in a Utah canyon.
Certain things are done intentionally opposite — like there's no sound at the end or synthesizers or all that stuff. Anything that drowns the movie, no. Anything that makes you sit up and watch it, yes. So, some are expecting a very sad theme going on. We didn't want to do that. It would have been a beautiful moment in the movie but it would have brought the movie down. So Danny's vision was perfect I think when he wanted it to be driven at the same time having this new emotion about this boy coming as a hallucination or like a déjà vu
Rahman explained that he had essentially divided the score into three themes:
One was the sun theme which is the guitar when he'd get sun on his leg and it comes again in the end. And there's of course the lullaby which Dido sang, "If I Rise." And then there's this driving guitar which is the motivation theme.
Giving more detail on the "sun theme," though made with guitars he described creating an "unusual texture underneath which was like this little granulated kind of pipe organ almost like a scratchy record."
Rahman, who likes silence, and even watches movies without sound, does have his favorite contemporary composers.
I like Tan Dun, the Chinese composer. I like some of Hans Zimmer's stuff. (Ennio) Morricone is my favorite and John Williams. As a sound, I think Gustavo. But this is all four or five years back. Now I just want to cleanse my mind. I'd like to discover something new or a new part of something. And anybody that's coming to you, they want a fresh sound. They want more of me which I'm discovering myself every day.
Read more of Rahman, a convert to Sufism, and his mystical answers about film scoring here.