Recommended: Answers On South African Trash Ravers, Die Antwoord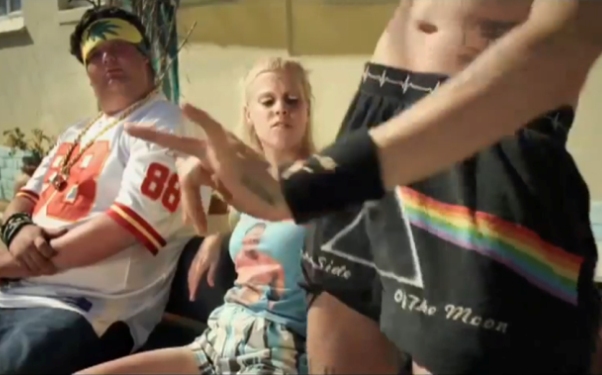 Posted by Brandon Kim on
It's not easy being white trash in America these days, what with all the death panels and the Muslim President. But in South Africa it appears that embracing your "zef" (Afrikaans for "white trash") is the thing to do, and it's growing pop cultural phenomenon that can be lucrative — if Die Antwoord is to be taken seriously. You may have seen their video "Zef Side," featuring the threesome, Ninja, Yo-Landi and Hi-Tek in a hot mess so blown out that over 4 million viewers haven't been able to turn away. The meth lab-come-music video was such a freak show it essentially landed the group a record deal on Interscope.
Nitsuh Abebe writing for Vulture has a greater grasp on these fools than I ever will, and has done some work exposing the group's origins:
Turns out Ninja and Yo-Landi are married, and parents, and educated, arty types. Both have spent time in clever, conceptual hip-hop and electronic projects (like this one), and approach their current work pretty much "in character," a fact that bummed out a whole lot of web surfers who thought they'd stumbled across some unimaginably crazy artifact from the real South Africa. When the group made a video responding to the question of whether they were "fake," it had — like a lot of their videos — the pacing and feel of a mockumentary…. Ninja explains that "Die Antwoord" means "the answer"; when someone asks "the answer to what?" there's exactly the right length of silence before he says it's the answer to "whatever, man." He's so doggedly deadpan he seems like he's doing improv. And maybe he is — though if it's all just a concept, it's one this group has doubled down on, hard-core, enough to make it exciting and real again.
The revelation that these guys are not actually some freakish zef side musical anomaly is something of a let down, but it does trigger some real respect their artistry. I can't say I dig what they're pushing but I applaud their creative prowess and the severity of their haircuts.