OnLive Gaming Service Announces It's Going Free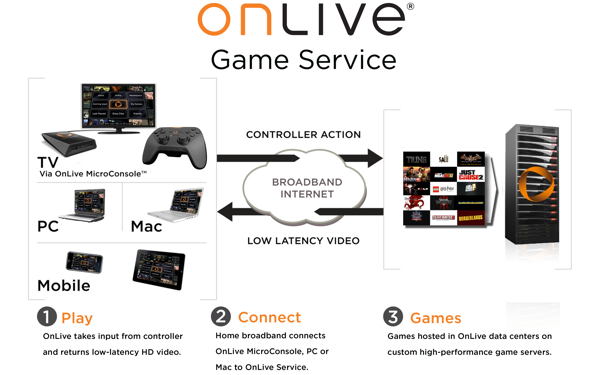 Posted by Evan Narcisse on
One of the most onerous things that comes with video gaming is the initial investment. No matter where or what you're playing–even if it's a handheld platform–you'll need to add a new thing to your living room, messenger bag or desk.
OnLive's offering a promise to minimize such acquisitive angst–what console do I buy, when do I upgrade my PC's video card–with their revolutionary service. The basic concept is cloud gaming, where the hardware that runs the game lives somewhere else and all you need is a PC or a TV. The secret sauce is in the streaming technology which delivers near-instantaneous response to the remote servers. I've tried out OnLive a few times and it's impressive. Even the graphical beasts used to benchmark how awesome a computer is–like "Crysis"–look good and perform sharply over the service.
The beta for OnLive launched about a short while ago and they've made some important overtures to the indie developer community. They've made their development tools available to indies, so that you can play small-studio titles like "World of Goo" on your TV with the need for an Xbox 360 or a Wii. But the biggest change with OnLive of late was their recent announcement that they're dropping their subscription fees. In March, they announced a monthly subscription fee of $15. But now, well before launch, OnLive's scuttled that and will only charge for games on an a la carte basis. That means it's essentially like Netflix's Watch Instantly offering, but only for games.
With that change, OnLive's become a much more viable option for both developers and consumers. Developers can get feedback directly with the service's community tools and consumers can sample at will if they've heard good things about a title. A few of this year's major game releases–like "Mafia II," "Kane & Lynch: Dog Days" and this week's brand-new "NBA 2K11"–have hit the service the same day as they arrive in retail, allaying any fears users may have about being stuck with a bunch of back catalogue stuff. The next major move from OnLive will be the rollout of their micro-console, which connects the service to TVs. No date's been announced yet, but look for that in thenext couple of months.