Revived and Derived: "Freaks and Geeks" Ep. 15, "Noshing and Moshing"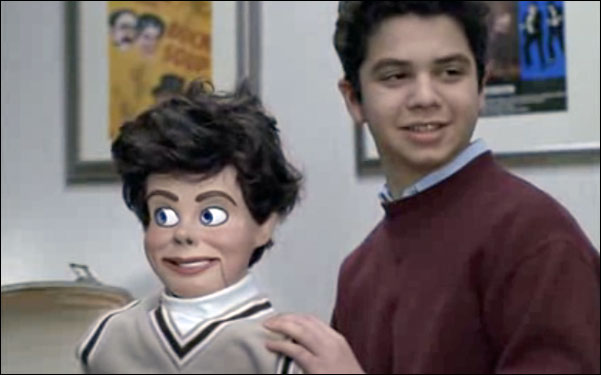 Posted by Matt Singer on
"Freaks and Geeks" is now airing on IFC, and we thought we'd take this opportunity to revisit the show that launched a thousand bromance movies. Every week, Matt Singer and Alison Willmore will be offering their thoughts on that night's episode.
Episode 15
Noshing and Moshing
Written by J. Elvis Weinstein
Directed by Jake Kasdan
"I'm leaning towards undeclared." — Barry Schweiber
Matt: Sadly, we're all leaning toward "Undeclared" at this point; we've got just three more episodes left before we all graduate to Judd Apatow's "Freaks and Geeks" follow up set in the world of college. In the meantime, we do get a small taste of university life from guest star David Krumholtz, who plays Neal's older brother Barry, back on a break from college. Everyone seems to like Barry, but no one more than Lindsay, who decides to attend the Schweiber's annual party just to spend some time with him. After several scenes of flirtation and sexual tension, the two share a kiss that's interrupted by Neal, who finally hits his breaking point and reveals the secret of his father's infidelity that he'd discovered back in "The Diary." By the way, the People Magazine that one of the teachers reads has a cover story about John Hinckley's assassination attempt of President Reagan, which means Neal's been holding this information for two whole months.
But before Neal interrupts, Barry has some inspirational words for Lindsay. College, he tells her, is awesome. In high school, Barry was the geek who got beat up constantly (in other words, he was Neal). But in college, he was able to reinvent himself as "the handsome, dashing Jew." Best of all: people bought it. Lindsay certainly has, anyway. Or maybe Lindsay's attracted to Barry because she's tried to reinvent herself too, with less than spectacular results.
Being a freak always gets her in trouble and her new freak friends don't "inspire or challenge" her, as she tells Barry in a moment of shockingly brutal honesty. Barry's living proof that you really can redefine yourself as someone totally new in college. For a girl who feels trapped by Midwest suburbia — this week she rails against the idiocy of not allowing kids to do their homework in detention — such upward mobility and freedom has to be extremely alluring.
Reinventing yourself in high school is much trickier, as evidenced by both main freaks and geeks storylines this week. On the freak side, Daniel breaks up with Kim for the umpteenth time and takes a liking to a punk dropout convenience store clerk named Jenna (Shawnee Free Jones). To impress her he tries to spike up his hair, safety pin his jacket and "rise above" — but finds punk shows just as disillusioning as everything else in his crummy life. Meanwhile, Neal, struggling with his dad's cheating ways, claims to have discovered something that will change the geeks' lives. "It will bring us power, respect, and money."
Yes, Neal truly believes the key to unlocking all of life's pleasures is a ventriloquist dummy — excuse me, figure — named Morty. Not surprisingly, Morty does not deliver a bump in social status (at least not a positive one). Though Lindsay seems to draw some hope for the future from her conversation with Barry, the net result of the Daniel and Neal storylines makes this episode another (awesomely entertaining) downer, even if both characters seem to find a modicum of comfort by returning their old ways during a powerful final montage set to Dean Martin's "You're Nobody till Somebody Loves You."
Can you really create a whole new identity for yourself in college? We'll have to wait a month until we get to "Undeclared" to answer that question. In the meantime, Alison, my first question for you is this: whose home life is more screwed up, Daniel or Neal's? Sure Daniel's got the mother who actually wants him to drop out, but Neal's dealing with a dad who cheats, a mom who seemingly permits it, and a brother who's macking on his favorite girl. Who wins (or, in this case, loses)?
Alison: Matt, I can't believe you didn't manage at least one mention of the cold open, in which Bill displays his incredibly fierce dance face in another showcase of Martin Starr's fearlessness. But to answer your question — I'd say Daniel's home life is worse. Neal is confronted with the terrible truth that everyone in his family has been living a lie, aware that of his father's peccadilloes but keeping them a secret to protect him and their own nuclear structure, at least until he goes to college (and there's the added sting of Neal learning his father has almost certainly had more than one affair, since the woman his brother spotting him out with was a redhead). But all least those lies all come out of their caring for one another. Even Dr. Schweiber expresses regret in "The Garage Door," telling Sam (who's trapped in his dentist's chair) about his infidelity coming from some desire for self-exploration he sees as passing — "All I need is time."
The brief look we get at Daniel's home life just reeks of despair and desperation, from that first glimpse of the junk-filled front yard. We learn his (unseen) father is seriously sick, his brother Joey apparently can't be trusted to pick up his father's pain meds and his mother would rather Daniel be around to work a minimum wage job and help her out than bother with finishing high school. The Desario household may even best previous dysfunction record holders the Kellys — no wonder Daniel and Kim have such a connection, one that's showcased in this episode, despite their ups and downs. This episode sheds new light on Daniel's character, on his aloofness and his moodiness. He deservedly has a lot on his mind, and his flirtation with being a "punker" is so goddamn sad, at least to us, because of what we've been shown.
To Ken and Nick, as far as I can tell, the excursion to The Armpit is just another novelty, their default leader Daniel testing the waters (and the hairstyle — and as any former punk kid can tell you, his mistake came in using the whole egg and not the white alone to make those liberty spikes) of another cool subculture. But we've watched him come home with that Black Flag album and listen to it on headphones, alone in his room. Punk seems, for a second, like armor to Daniel, a way to channel the anger and frustration, to wear it like a bade, to embrace the cuts and bruises as "just another battle scar," as he tells Jenna, trying to play tough. He wants to be a whole new person who doesn't give a fuck about anything — but in actuality he's lonely and wants the girl, and when things don't work out the way he'd imagined, he goes running back to Kim, who embraces him without a word.
It's a nice touch that the visit to the punk club wasn't entirely in vain. Daniel may have gotten his head and nose split open and revealed himself to be a poser several times over ("Puss rules!" "It's Pus."), but Ken, out in the mosh pit at the end, is obviously having a grand time. But Matt, in many ways, Neal's social suicide-embrace of ventriloquism — at school, even! — comes across as edgier, or at least more risk-taking, than Daniel's safety pins and near nose piercing. What did you make of his implosion of a performance at the end of the Schweiber family's traditional dental party?