Mel Gibson Won't Get a "Hangover"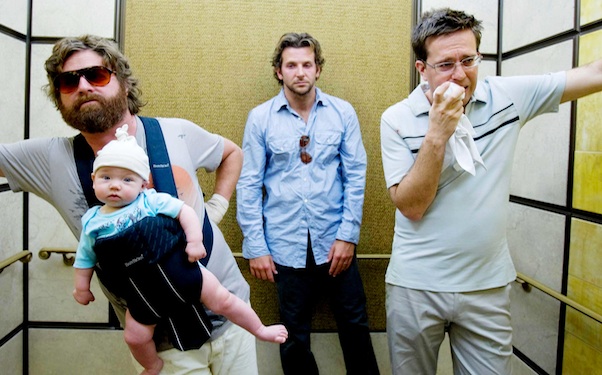 Posted by Matt Singer on
Easy come, easy go. As first reported Monday by The New York Post, Mel Gibson had lined up a juicy cameo in the upcoming sequel to the surprise hit "The Hangover," playing the role of "Celebrity Whose Image Has Gotten So Tarnished, He'll Do Anything Todd Phillips Asks To Fix It" (The Post story says he was supposed to play "a tattoo artist;" six of one, half a dozen of the other).
But Gibson's career rehab didn't last long (Please refrain from adding your own jokes about any other kinds of rehab. Thank you.). Yesterday, news arrived that just as quickly as he'd gotten the gig, he'd lost it. But rather than simply saying that Gibson had scheduling difficulties or creative differences, or any of the other bullshit excuses Hollywood press releases use to hide the truth, "Hangover 2" director Todd Phillips publically accused his crew of mutiny. At least that's my interpretation of his statement, reprinted in Anne Thompson's piece on the story over at indieWIRE:
"I thought Mel would have been great in the movie and I had the full backing of Jeff Robinov and his team. But I realize filmmaking is a collaborative effort, and this decision ultimately did not have the full support of my entire cast and crew."
Next came word that when Phillips said "my entire cast and crew," he might have meant "Zach Galifianakis." Vulture noted that on a recent episode of the Comedy Death-Ray podcast, Galifianakis discussed his frustration with a project he was currently shooting whose title began with the letter 'H.' "I'm in a deep protest right now with a movie I'm working on, up in arms about something," Galifianakis said. "But I can't get the guys to [listen] … I'm not making any leeway."
If true, we've reached a point that would have seemed completely insane even eighteen months ago. Zach Galifianakis, a guy who a few years ago couldn't hang onto a talk show on VH1, has grown more powerful — much more powerful — than Mel Gibson. And he's not even Jewish!
There's one more side of this story and it gets back to Gibson and he should be allowed to get on with his comeback or not. In her article on the "Hangover" casting kerfuffle, Thompson says:
I was right when I said Gibson was a Hollywood pariah. I get why people despise the guy: he's anti-semitic, alcoholic, abusive and has lousy taste in girlfriends. But I hate the idea of blacklisting. The man should be able to work. Shun him on the set, don't talk to him–you don't have to be friends with him–but don't prevent him from working because you despise his bigotry and brutish behavior.
I admire Thompson's ability to let bygones be bygones, and she's right that the idea of blacklisting anyone can leave a bad taste in your mouth. But this isn't a matter of not hiring someone over his politics (unless you think calling women "gold digging whores" is a political point), it's about not hiring someone over his hate. I suppose this brings us to the issue of whether you can hate an artist and love his work. If I liked a Roman Polanski movie, does that mean I'm endorsing his behavior? When, as in the case of Gibson, that behavior crops up over and over, that gets really hard.
But forget about the moral issues for a second and look at it this way: if a guy was alcoholic, verbally abusive, hateful towards women, he wouldn't be able to hold down a job at Wendy's without getting some serious mental and emotional help. So why is outrageous someone with all of those problems can't get work in multimillion dollar Hollywood productions?