James Joyce and 'The Dead': A Quick Education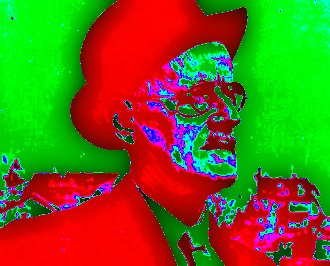 Posted by Melissa Locker on
It's long been a rule that if you want people to think you are smart, carry around a copy of James Joyce's "Ulysses". While "Finnegan's Wake" or "Dubliners" will do in a pinch, the real smartypants all tote "Ulysses" while riding public transit or prop it up on a table at a coffee shop. The mere presence of such a hefty tome works as a neon sign to say: I AM SMART. This works in two ways: 1. If someone has read it, they will think you are "one of them" (in a Freaks kind of way) and 2. If they haven't read it they will feel cowered by your greater intellect and not question you about it. Win win, right?
If carting books isn't your cup of tea — or you don't think anyone will notice if you are reading Joyce on your Kindle — then gather enough Joycean quotes to pass muster at Bloomsday by watching one of these films inspired by the life and work of James Joyce.
Angelica Huston stars in her father's final film, The Dead, which just happens to playing on IFC today. John Huston's film is based on the final story in James Joyce's "Dubliners" and was co-written by John Huston's son, Tony Huston. Here's the trailer for The Dead, which airs on IFC at 2:35 p.m. ET.
Next up is "Ulysses". No, not that Ulysses, but the 1967 version starring Maurice Roëves as Stephen Dedalus, Milo O'Shea as Leopold Bloom, and Barbara Jefford as Molly Bloom. Dedalus also quotes Nietszche in the clip, so you can double the bang for your lazy man's educational bucks. If you watch the whole clip you are entitled to tell people your IQ is two full points higher than it really is:
In 2000, Ewan MacGregor starred as James Joyce himself in Nora, which took a look at the love of Joyce's life, Nora Barnacle (played by Susan Lynch). This is an important addition to your film roster because it will allow you to sprinkle anecdotes about Joyce's personal life into your daily conversation ensuring that people know you are much smarter and more worldly than they are:
Bloom garnered a lot of praise and a handful of Irish Academy Awards for its interpretation of Joyce's Ulysses. It stars prolific Irish actor Stephen Rea as Leopold Bloom who goes about his day vaguely following the structure of Homer's Ulysses. While Stephen Rea generally makes every movie better, the trailer for Bloom does not make the movie seem any more accessible than the book.
The Dead airs on IFC at 2:35 p.m. ET today and on Monday, Nov. 1 at 4:30 AM EDT