"It's Kind of a Funny Story," Reviewed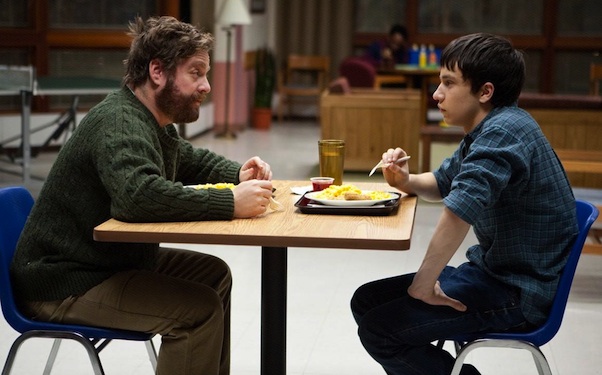 Posted by Matt Singer on
Writer/directors Anna Boden and Ryan Fleck are victims of their own success. Their new film, "It's Kind of a Funny Story," is getting the worst reviews of their career. As I write this, it's currently hovering around 60% on Rotten Tomatoes, thirty points lower anything else they've made. I suspect that has less to do with the quality of "It's Kind of a Funny Story" than its relationship to their previous films, "Half Nelson" and "Sugar." Those films were designed to defy conventions, while this one is designed to conform to them. By comparison, I would agree that "It's Kind of a Funny Story" is an inferior film: it is not as bold or original as Fleck and Boden's others. But it is clearly not intended to be. It's based on a young adult novel and it feels like a "young adult movie," if such a thing exists. It tells a teenage story for a teenage audience and like a lot of teenagers it's bound to be misunderstood by a lot of adults.
What adult could relate to the problems of Craig, the film's protagonist? Played by Keir Gilchrist, he is a whiny, self-centered mope. Despite his comfortable and supportive home, despite having two parents and seemingly all the opportunities in the world available to him, he is depressed. Considering suicide, he walks into the emergency room of a New York City hospital and announces "I want to kill myself." The clerk is nonplussed. "Fill this out," is the response. This was not the reaction Craig anticipated. Neither is the result: since the hospital's teen wing is under renovation, he's placed in the adult psych ward, amongst people like Bobby (Zach Galifianakis), a Craig on the other side of middle age with a strange sense of humor.
Watching Craig, it becomes apparent that his troubles aren't nearly as serious as his new neighbors, who face crippling social anxiety or schizophrenia or self-mutilating urges. He's just a horny, lonely, misunderstood kid feeling pressured to get into the right school and find a girlfriend. To an adult, these problems seem trivial and hardly worthy of an entire film. To a teenager, these problems are the biggest problems in the entire world and not only are they worthy of a film, they're worthy of thirty films and a hundred books, and a thousand Facebook wall posts.
Boden and Fleck do bow to cliché more often than they should; they're smart enough to know that no film under any circumstance should include a scene where a guy tells a girl he loves her at the exact moment another girl he likes walks in the room, then runs away in tears. And they're a bit too quick to laugh at the illnesses of the other hospital patients. But they understand the teenage psyche in ways a lot of mainstream films geared toward that age bracket do not. They treat teens' petty obsessions like the world-ending crises they feel like at the time, but they don't shy away from the fact that Craig needs to grow up either. They also get uniformly excellent performances out of a cast that includes Jim Gaffigan and Lauren Graham as Craig's parents, Zoë Kravitz as Craig's longtime crush, Viola Davis as a sensitive psychiatrist, Emma Roberts as a cutter locked up with Craig, and Galifianakis who, all things considered, played much crazier characters in "The Hangover" and "Dinner For Schmucks."
We shouldn't let directors off the hook when they fail, but we also shouldn't hold them to a standard higher than they held themselves to. The adult in me got weary of Craig's complaints pretty fast, but the part of me that remembers what it was like to be that age got it. I'm pretty sure if I'd seen this movie when I was 17, I would have loved it. Critics bashing it for not living up to Boden and Fleck's past movies sound like tyrannical parents who are way too hard on their kids when they bring home an A- instead of an A on a really tough test.