Insert Credit: "Red Dead Redemption: Undead Nightmare" DLC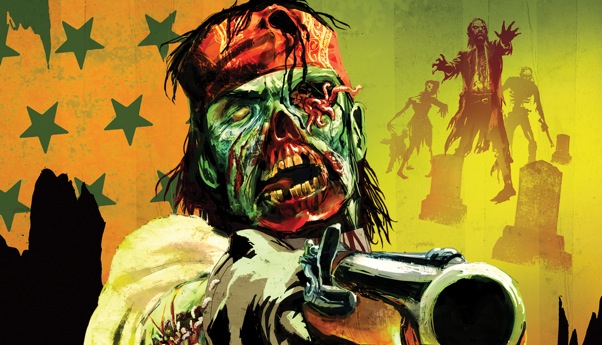 Posted by Evan Narcisse on
Insert Credit endeavors to suss out where you should be allotting your video game allowance, sifting out a single title from many and crowning it as The One Game You Need to Get This Week. Don't consider these reviews, gentle reader. Rather, think of Insert Credit as a mix of hands-on time, informed opinion and intuition.
For the week of October 29, 2010, you should insert credit into: "Red Dead Redemption: Undead Nightmare" DLC.
I've written before how Rockstar's games tend to draw in filmic influences and "Red Dead Redemption" marks an effort to channel what the company heads Sam and Dan Houser love about the Western into playable form.
But, if the gruff, betrayal-centric main storyline of RDR apes the stripped-down, ultra-naturalistic tone of Sergio Leone and Sam Peckinpah's work, then the Undead Nightmare DLC trades that in for horrific action along the lines of Sam Raimi and George Romero.
The newest downloadable add-on for "Redemption" marks the first new single-player content since the game came out earlier this year. The DLC introduces a zombie plague to the world of "Red Dead Redemption" and the events that follow offer a big divergence from the grimness of everything that . That's not to say that things aren't serious as game hero John Marston tries to eliminate the hordes of undead that have overrun the towns.
But, with undead humans and rotting, ambulatory wildlife, there's opportunity to have some tongue-in-cheek fun, too. So, while chainsaws don't exist yet in the game's turn-of-the-century milieu, the new Blunderbuss weapon would make "Evil Dead"'s Ash proud. It's a musket that uses the undead's own creepy flesh as ammo against them and it'll pair nicely with the holy water grenades the DLC trots out, too. In addition to those weapons, "Undead Nightmare" jumps off the genre cliff and never looks back by introducing the Four Horses of the Apocalypse. They're mystical mounts possessed of eldritch powers, so the War horse is on fire (naturally) and burns up anything that gets too close.
For those addicting to beefing up their Xbox Live gamerscore or Playstation trophy coun, "Undead Nightmare" offers up an assortment of new Trophies and Achievements, too. But the swarming clusters of re-animated corpses do more than just provide fresh gameplay for people who may have forgotten about "RDR." "Undead Nightmare" shows off how much Rockstar can tonally stretch the experience of a particular title and still have it feel like it's part of what's come before.
The Undead Nightmare DLC for "Red Dead Redemption" can be had for $9.99 on the PlayStation Network and for 800 Microsoft Points ($10) on Xbox Live.