IndieCade: What I'll Be Doing This Weekend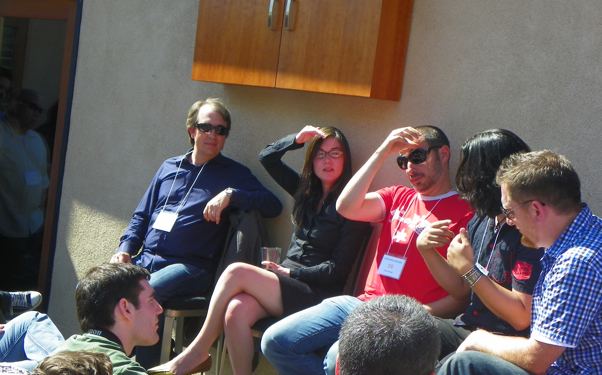 Posted by Evan Narcisse on
The premier international celebration of indie game design kicks off today. As I type, I'm in the air, wending my way to lovely Culver City to take in three days of what promises to be awesome hands-on and panel talks. Here's what I'm looking forward to from the programming:

Punk Rock M*****F*****
Brandon Boyer, Frank Lantz, Richard Lemarchand, John Sharp
Game culture is often thought of as naive, disposable and operating in a cultural vacuum, isolated from everything other than genre fiction and Japanese pop culture. Brandon Boyer, Frank Lantz, Richard Lemarchand and John Sharp beg to differ, and offer punk rock as a case in point. Punk demonstrates the ways in which pop culture can be simultaneously exuberant, naive, primal, critical, disposable and savvy, sophisticated, intellectual, and culturally self-aware, and is therefore a wonderful inspiration for videogames. These four old school punks will talk about the overt and hidden connections between games, punk rock, and the arts.
[Boyer's the recently appointed head of the Independent Games Festival. Lantz runs NYC dev studio Area/Code and is the acting chair of New York University's Game Center. I love that they're tackling the idea of the naïf game designer and can't wait to see how punk rock this talk gets.]

Discovering Multiplayer Dynamics in Journey
Jenova Chen and Robin Hunicke
In ThatGameCompany's upcoming title Journey, players meet and travel with strangers through a vast landscape. Players cannot speak to each other via voice or chat… which means that they must communicate in other ways. In this talk we will share some of the early prototypes that inspired our decision, discuss challenges we've encountered, and demonstrate the resulting dynamics in Journey itself.
[Jenova Chen's the design heart of ThatGameCompany and the man responsible for the touching, brilliant Flower, while Hunicke's brought her sharp game sensibilities to fun, simple game like "Boom Blox". I've been waiting to see "Journey" for months, so this should be great.]
Project Next
Jonathan Blow, Ian Bogost, Alex Neuse, Paolo Pedercini, Chris Hecker, and moderated by John Sharp
Want a sneak peak at the next wave of indie games? To see how finalists and ground-breaking indies are following up their successes? Project Next is a series of quick previews of unreleased games by a wide range of indie developers. Confirmed speakers include Jonathan Blow (Braid), Ian Bogost (A Slow Year), Chris Hecker (Spy Party), Alex Neuse (BIT.TRIP RUNNER) and Paolo Pedercini (Every Day the Same Dream).
[This one speaks for itself. New games from top designers, at their most unfiltered.]

Interactive Storytelling Goes Indie
Erik Loyer, Jamie Antonisse, and more, moderated by Dan Pinchbeck
When you think of story and games, the first things that might come to mind are big-budget AAA titles and their reliance on cinematic conventions, genre and fancy graphics. The indie scene is also quietly working away at the enigmatic story-game problem, but in ways that differ from the mainstream industry. Erik Loyer (Ruben & Lullaby, Blue Velvet) and Dan Pinchbeck of the Chinese Room (Korsakovia, Dear Esther) will discuss their work and opinions about melding game and story, the tensions and connections between the two, and why the indie scene is likely to pave the way for great interactive storytelling.
[Indie games don't have to worry about pandering to the middle and it's paid off in the stark immersion of titles like Limbo. Hopefully, this talk will show that more risks are to come.]
If you're in the LA area, come out and check out IndieCade. Find info about getting tickets at the official site.