IndieCade 2010: Playstation Gives Indies Home Away From Home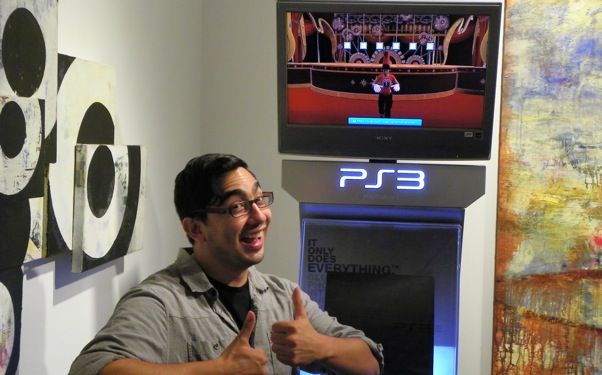 Posted by Evan Narcisse on
The last thing I was expecting to see in Culver City was the Playstation brand's significant presence at this year's IndieCade. Now, it might've been blasphemous to the indie orthodox that Sony exec John Hight was on a panel about funding game development or that the awards ceremony happened in the huge lobby of the Sony Pictures corporate offices. But going to one of the festival's gallery locations revealed that Sony's enlisted the wit and ingenuity of indie dev studios to infuse its social hub with more flavor than it's ever had before.
A virtual space where players could craft avatars and socialize each other, Playstation Home launched some months after the PS3 debuted and landed with a resounding thud. Though it sported better graphics than "Second Life"–on which it was clearly modeled–Home didn't have enough by way of population or inherent quirkiness to compel people to stop by for more than the initial cursory visit. All you could really do was decorate a virtual abode, text chat and throw weird emotes at strangers. Yeah, jumping and dancing with other visitors was fun for the first three times you did it but felt real shallow real quick. For a virtual meeting space connected to a game console, Home lacked games of any real distinction.
However, Playstation's partnered up with several studios to develop original game experiences inside Home and they resemble nothing else available on the service. The first game I looked at was "Super Awesome Mountain RPG" by Codename Games.
Producer Diana Hughes (pictured above with Jesse Vigil) explained that it's a giant digital board game, but one where anything can explode, depending on how you roll the dice. The titular mountain was home to a crazy scientist who built a massive amusement open to all, only to have the enormous and suddenly self-aware mechanical dragon trap him on the peak. Your task is to climb the mountain and rescue the scientist. After picking a game piece–which come in the form of differently abled rogue, mage and knight doll figures–players progress along a tiled board where they can engage in monster combat, acquire weapons or pick up clockwork device power-ups. The boss fight against the dragon changes depending on which game piece you use and the one I saw for the mage had you playing a Simon Says-style minigame to cast a spell that won the day. Based in downtown LA, Codename started development on "Super Awesome Mountain RPG" this June and are aiming at a 2011 release date for the game. It'll be a free demo at first and then will be available for purchase.
Where "Super Awesome Mountain" gives you characters to move around a game board, the Home offering by The Odd Gentlemen lets you use your existing avatar. The studio that made this year's acclaimed "The Misadventures of P.B. Winterbottom" will be rolling out "Slaphappy Sam's Stage Show" in December. "SSSS" offers up to six players the chance to compete in a rock, paper, scissors-style face-off. On a vaudeville stage that will be located on Home's central plaza, you and others can secretly choose from one of three moves that can all potentially cancel each other out. Attack lets you punch slap or drop a piano on opponents, Block swats away Attacks and Reflect bounces Attack moves onto other players. However, if you choose Reflect when no one's attacking you, you'll take a lot of damage. Each player starts with 20 hit points and the goal is to be the last one left standing. The game's a simple yet sticky bit of risk-vs.-reward game design that makes your Home avatar feel like more than a glorified paper doll. The Odd Gentleman's Paul Bellezza said, "We wanted to use Home avatars and basically abuse them." The subversive element doesn't end when you get off the "Slaphappy" stage, either. You'll be able to buy abuse items (like that piano) and keep them in your apartment. "Slaphappy" will offer custom emotes, too, so that you can unique animations to communicate with. "Slaphappy Sam's Stage Show" will be out in December and will be free for the first month.
These two titles give an encouraging glimpse as to how indie game-making entities and corporate publishing outfits can benefit each other without either party becoming dysfunctional. The faster turnaround process for indie studios offers lower risk and investment while the huge reach of a platform like the PS3 enables indies to disseminate their work more widely. Here's hoping Sony broadens its indie outreach in similarly smart ways as time goes on.