Independent Games Festival Unveils 2011 Entries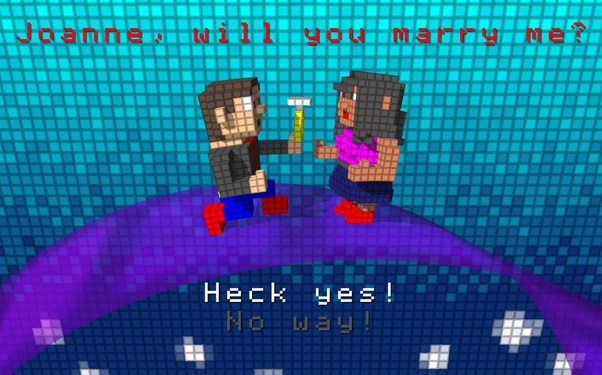 Posted by Evan Narcisse on
Every year, thousands of upstart game studios submit their work to the Independent Games Festival with the hope of gaining the recognition of their peers and raising the profiles of their works-in-progress. Last year's entry list was a whopping 306 games, including future award-winners "Monaco," the hit indie "Limbo" and the freshly released "Super Meat Boy." This year sees an increase of about 30%, with 391 games submitted.
The IGF's under new stewardship now, as Brandon Boyer (formerly editor of Offworld, Boing Boing's gaming blog) was named Chairman in May. He–and the designers and industry professionals who help make the IGF and its sister symposium the Independent Games Summit happen–will be plowing through the nearly 400 games until next year. Sometime before the next Game Developer Conference happens, nominees will be announced and a lucky few will be awarded at GDC 2011. I've read through all 391 entries on the list, here are a few that stuck out to me:
Matt Gilgenbach

A Mobius Proposal is a co-op puzzle platformer I created in order to propose to my girlfriend. Players are on opposite sides of a Mobius band, and they must work together in order to overcome obstacles. I incorporated the proposal in the game by displaying a fake low battery message and hiding the ring inside the battery pack of the controller.
[Ok, I don't remember if there's an IGF category for "awwwwww, cute!" but if there is "A Mobius Proposal" wins it, hands down.]

Brutally Unfair Tactics Totally OK Now (B.U.T.T.O.N.)

Copenhagen Game Collective

B.U.T.T.O.N. (Brutally Unfair Tactics Totally OK Now) is a one-button party game for 2-8 players. The game consists of short rounds. In each round, the game instructs players to put down their controllers and take several steps back away from the computer. Then, after displaying an additional direction designed to add some chaos (e.g. "Lie on the floor"), the game announces a micro-challenge (e.g. "Any player whose button is pressed loses"). In a race in physical space, players rush to the controllers to press the "right" button – be it their own or that of their opponents.

In B.U.T.T.O.N., what players are "allowed" to do will depend on the specific community of people playing. The computer, of course, cannot detect if players are taking a full six steps back, or if each player really completed five pushups, etc. This is not a shortcoming, but a feature. Rather than let the computer carry out all the rules, the players are themselves responsible for enforcing (or not enforcing) the rules. On this account we were inspired by old folk games and board games, which encourage improvisational play and "house rules."
[Saw this played a bunch at IndieCade and it's pure hilarity in video game form. "B.U.T.T.O.N." should be in every bar in the world. It's that good.]
Nicalis, Inc.


Arguably the most well-known indie game of all time, Cave Story features a completely original storyline wrapped with personality, mystery and classic 2D action! Overflowing with unmatched charm and character, Cave Story takes you into a rare world where a curious race of innocent rabbit-like creatures, called Mimiga, run free. Their only hope against a vile scheme rest squarely on the shoulders of a quiet, amnesiac boy who can't remember his own name. Take control and learn the origins of this world's power, stop a delusional villain and save the Mimiga!
[I'm already on record as having loved this game. But hasn't it won an IGF award in some previous incarnation?]
Dinner Date
Stout Games

You play as the subconsciousness of Julian Luxemburg, waiting for his date to arrive. You listen in on his thoughts while tapping the table, looking at the clock and eventually reluctantly starting to eat…

"Dinner Date" is the portrait of Julian: from his desires and doubts to reflections on his friends and his place in the world. You are not merely witnessing – by interacting with Julian and his world you gain a clear vantage point on his life.

The wait for the beautiful girl he invited over becomes longer and she becomes the dominant factor in his thoughts. And yet his true problems may not even begin with the girl: what of his work, of his boss, the headhunter, his fascination of Byron and his friendship with Jerry, who had been pushing Julian to take on this date?

In "Dinner Date" you will experience all this: with some drinks, some bread, some soup – and with a clock that slowly mocks the constant wait for when she comes, this elusive girl who will solve everything.
[An anti-dating simulator? Filled with neuroses and escape fantasies? Did these developers stalk me in my early 30s?]
Yellow Monkey Studios Pvt. Ltd.

A thought is an ephemeral yet tangible impulse in your mind. It is unstable, extremely dynamic and contains an essence of YOU. The objective of this game to keep your thought alive. "It's just a thought" relies on skill and patience to help you take your thought across the endless depths of your mind.

The mind is a monkey, it is fickle and erratic. All across the neural network you will find other disturbing thoughts that will change your state of mind. However your memories will aid you in your journey. If you fumble you must quickly recover or else your thought will be lost, only to be seen if you tread those pathways again.
[Another game that aims to put you in a person's head, albeit it in a more literal way.]
AND-OR

Laichenberg is a firstperson shooter with a defect. Frags are corpses; and they do not disappear in this game. The corpses of the enemies you kill, remain where they died and fell to the ground. If you kill more enemies, their remains start blocking your way and the narrow tunnels of the bunker system become insurmountable.

Laicnenberg refers to Friedrich Dürrenmatt's narrative fragment "Winter war in Tibet". Soldier 23 has to substitute his legs with rolls and his arms with weapons. In the end, all that remains for him is scribble on the wall, meter for meter, back and forth. Laichenberg means mountain of spawning (german: "laichen") and piles of corpses (german: "Leichen"). In an apocalypse it shows how a simple defect alters a game. Laichenberg does not make the dead disappear such as firstperson shooters usually do. The effect is that soon enough there is no space left to play in the labyrinth.
[I like the idea of purposefully using a bug as a gameplay mechanic. It'll be interesting to see if there's as much meta-awareness as the description promises.]
Grimmstone Limited

Sexy Adventures is an AO title in which you puzzle your way through adult movies! The player drops actors in tetris-like poses onto the game board, attempting to "connect" them together to score points and complete the scene.

There are a variety of movies and sets to film on, from your backyard all the way to outer space or on a pirate ship.

Have you had your sexy adventure today?
[It's Porn Tetris. I have to see what that looks like. For, um, research.]
Thank you Mr. Robeato: I can finally watch music videos while playing video game.

Sang Hyuk Park

Thank you Mr. Robeato offers unique combination of beat matching gameplay as well as continuous cutscene changes based on analysis of a music. Song parts that has high beat rates are converted into beat matching gameplay cutscenes. Song parts that has more melodic sounds are converted into visual cutscenes. End result is a series of cutscenes that has an intro, end, gameplay, and visual only cutscenes all put together like a music video in a convincing way.

Thank you Mr. Robeato creates a music video for any song you choose. So the level you choose will always match the music you choose to play.
[Lots of indie games have used the data in mp3 files to generate levels and gameplay elements. "Thank You Mr. Robeato" sounds a hybrid between a gameplay idea and an editing program. Will be looking forward to this.]
The Game Conference
LowPolyCount

Are you a bad enough dude to rescue the pres… wait, wrong game.
Attend "The Game Conference" and get a job by telling everyone about your cool game ideas.
[This one intrigues me for the sheer level of its meta-audacity. Please be full of inside jokes. PLEEEEASE.]
Piston Games

Drop7 meets World of Goo in this addictive puzzle game.

The Screetch offers twist in the match-3 genre. As the different colored orbs dropped they become hidden after your turn by slime (which is the "screetch" you're collecting) and the only way to reveal them again is to match three of the orbs next to the covered orbs.
[It's a bold claim to compare your game to one of the best iPhone games ever and one of the most successful indies of all time. It's on the App Store, so I'll be checking it out to see if it stands up to that claim.]
(this is a) META game!
Bloody Monkey


Games are made of rules.

Every other game makes you follow its rules. In this game, finding rules is the game.
It's as simple as reaching the high score. But you don't know how to score a single point.
Based on a essential but fun arena shooter, (this is a) META game! changes on every level its rules.

You will try to shoot enemies… Nothing. You will try to grab bonuses… Nothing… Have you already tried to shoot bonuses?

Rules are made to be broken, but you have to know them, first.
[And, as meta seems to be a big theme in this year's entrants, here's one with the actual word in the title. Despite telegraphing its philosophy, the core idea of "META game!" sounds intriguing.]