"I'm An Oil Man": "There Will Be Blood" Gets Super NES Send-Up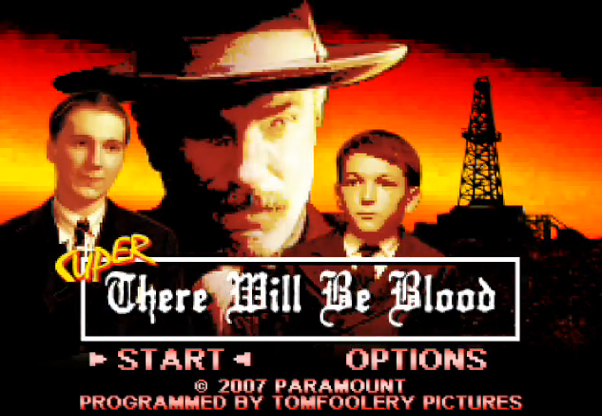 Posted by Evan Narcisse on
Certain movies, comics and games see to be natural fits for a transmedia journey. A "Scott Pilgrim" game is a gimme. Ditto for the recent graphic novel that ties in the "Fallout: New Vegas" game.
No one would think that Paul Thomas Anderson's Oscar-winning period piece was ripe for digitization but the Tomfoolery Pictures creative shop did exactly that. A gameplay clip on Vimeo shows off a Super Nintendo Enetrtainment system demo of a purported adaptation of the 2007 film. "Super There Will Be Blood" is a platformer in the Mario-style, with charismatic prospector Daniel Plainview blowing up rock formations and collecting money. The game versions of the film's key confrontations are hilarious and the slurping milkshake sound will make you laugh out loud.
Super There Will Be Blood from Tomfoolery Pictures on Vimeo.
The icing on the cake comes in the form of the pitch-perfect pixellated stills used as chapter breaks. Many a game in the 16-bit era use this device and the super-dry dialogue flow makes for great parody in "STWBB." If only there were a preaching mini-game in the style of "Parappa the Rappa"…