Hitching a Ride on the "Darjeeling Limited" and More New DVDs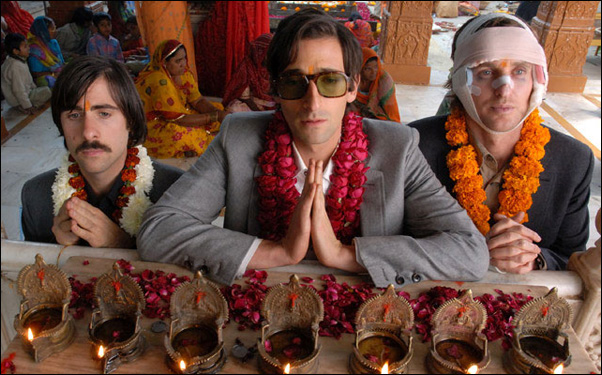 Posted by Stephen Saito on
A look at what's new on DVD today:
"The Darjeeling Limited" (2007)
Directed by Wes Anderson
Released by Criterion Collection
Anderson's underappreciated trip to India on the backs of three brothers (Adrien Brody, Jason Schwartzman and Owen Wilson) who take a train the country to honor their late father gets a reexamination with this Criterion Collection edition that includes a new documentary, an audio commentary from Anderson, Schwartzman and Roman Coppola, audition footage, a video essay from Matt Zoller Seitz, a chichat between Anderson and the late James Ivory about the film's music and Anderson's ad for American Express and the short "Hotel Chevalier" with Natalie Portman.
"As Good As Dead" (2010)
Directed by Jonathan Mossek
Released by First Look Entertainment
Andie MacDowell, Frank Whaley and Matt Dallas star as spurned cult members from the South who take a New Yorker (Cary Elwes) hostage years after they believe he's killed their leader in this thriller. Brian Cox and "Teeth" star Jess Weixler co-star.
"Breaking Upwards" (2010)
Directed by
Released by Real-life couple Daryl Wein and Zoe Lister-Jones work out their issues by co-writing, co-producing and starring in this anti-romantic comedy about a young couple who, fearful of getting too serious too soon, plot out the terms of their break-up while attempting to keep dating for appearances' sake. (Lisa Rosman's review of the film is here.)
"Carnies" (2010)
Directed by Brian Corder
Released by R-Squared Films
"Hellboy"'s contortionist star Doug Jones gets to skip the makeup, CG or otherwise, in this thriller where a 1930s carnival becomes the scene for several murders as sword swallowers and gypsies attempt to find the killer before the killer finds them.
"Coffin Rock" (2009)
Directed by Rupert Glasson
Released by MPI Home Entertainment This Aussie thriller involves the paternity test from hell as one married woman's infidelity leads to a pregnancy after years of infertility with her husband, but her one night stand becomes a nightmare when he demands to know if he's the father.
"Daniel and Ana" (2009)
Directed by Michel Franco
Released by Strand Releasing A close-knit brother and sister (Dario Yazbek Bernal and Marimar Vega) whose entire relationship changes after they are kidnapped by three hoods and they decide against reporting the crime in this Mexican drama.
"Doghouse" (2009)
Directed by Jake West
Released by MPI Home Video
The only thing worse than getting divorced is when your pals try to take your mind off it by taking you to a village that they think is full of single women, but actually is a hive of cannibals. Director West envisions the possibility in this horror comedy.
"Four Boxes" (2009)
Directed by Wyatt McDill
Released by E1 Entertainment
A selection of SXSW and the Seattle Film Festival in 2009, "Weeds" star Justin Kirk leads a group of three liquidators into the home of a dead man where they become fascinated with a Web site comprised of surveillance camera footage that looks innocent enough until they see a bombmaker at work in this darkly comic thriller.
"The Gates" (2008)
Directed by Albert Maysles
Released by Kino Video
Fulfilling a 25-year project that he started with his late brother David, Albert Maysles tracks the development of Christo and Jeanne-Claude's construction of the orange gates that lined Central Park in the spring of 2005.
"How to Train Your Dragon" (2010)
Directed by Dean DuBlois and Chris Sanders
Released by DreamWorks
After being let loose from Disney, "Lilo and Stitch" directors Dean DuBlois and Chris Sanders moved to DreamWorks to create one of the few 3D films of the past year to earn almost universal praise for its coming-of-age story of a young Viking who grows up with his pet dragon as their respective parents fight each other on a daily basis. (The DVD and Blu-ray will be available on Friday, October 15th.)
"I Am Love" (2010)
Directed by Luca Guadagnino
Released by Magnolia Home Entertainment An heir to Luchino Visconti and Douglas Sirk, Guadagnino spent 10 years working with Tilda Swinton to craft this devastating Italian melodrama about the wife of wealthy textile manufacturer who begins an affair with her son's friend (Gabbriellini), reawakening her long-dormant passion for life and threatening to destroy the family she has long kept together. (Alison Willmore's review and Erica Abeel's interview with Swinton are here.)
"I'll Come Running" (2008)
Directed by Spencer Parsons
Released by MPI Home Video
Parsons' light romantic drama features Melonie Diaz as a Texas waitress who must head to Denmark when her one night stand with a vacationing Dane (Jon Lange) results in an unexpected tragedy. (A trailer is here.)
"Jonah Hex" (2010)
Directed by Jimmy Heyward
Released by Warner Brothers
You won't find a neglected masterpiece here, but perhaps morbid curiosity might lead you to this Josh Brolin adaptation of the DC Comics' gunslinger who has his mind set on revenge against the terrorist (John Malkovich) who burned a hole in his cheek. Megan Fox, Michael Fassbender and a host of other famous faces can be seen briefly in this 81-minute wonder, which may be partially explained by the deleted scenes included on the disc.
"Leaves of Grass" (2010)
Directed by Tim Blake Nelson
Released by First Look Studios In a change of pace for "The Grey Zone" director Tim Blake Nelson, Edward Norton pulls double duty as Bill and Brady Kincaid, twin brothers who went in completely opposite directions — Bill is a Brown professor, Brady a low-level pot dealer — who must make amends when one of Brady's elaborate schemes goes awry and pulls down Bill with him into a world of Shabbat-worshipping drug lords (Richard Dreyfuss), gun-toting orthodontists (Josh Pais) and surly Oklahomans (Steve Earle). (Matt Singer's review and Alison Willmore's interview with Norton are here.)
"Lost Boys: The Thirst" (2010)
Directed by Dario Piana
Released by Warner Brothers
Corey Feldman is back in this second direct-to-video sequel to Joel Schumacher's 1987 vampire tale as Edgar Frog, who partners with brother Alan (Jamison Newlander) to prevent a rave from turning into the end of days when a coven of bloodsuckers choose the party as a chance to quench their thirst for blood and turn everyone into vampires.
"The Magician" (1958)
Directed by Ingmar Bergman
Released by Criterion Collection
Criterion adds to their extensive Bergman holdings with this Max Von Sydow starrer about a mesmerist whose stop in Stockholm is marked by suspicion after gossip about his previous shows elsewhere suggests he may have help from the dark arts. The film's special features include an essay from Peter Cowie, a rare interview with Bergman from 1967 and an audio-only one conducted in 1990 by "Carlos" director Olivier Assayas and Stig Björkman.
"Manson: My Name is Evil" (2010)
Directed by Reginald Harkema
Released by Lionsgate
In Harkema's horror flick that premiered at last year's Toronto Film Festival, there was love to be found amongst the ruins of the Charles Manson murders as one of his followers (Kristen Hager) is on trial for murder and becomes the obsession of one of the jurors (Gregory Smith).
"Spoken Word" (2009)
Directed by Victor Nunez
Released by Maya Entertainment
The return of "Ruby in Paradise" director Nunez stars Kuno Becker as a slam poet on the rise who gives up an exciting life on the West Coast to return home to take care of his ailing father (Rubén Blades) in New Mexico where he has to come to terms with the past he thought ht had left behind for good.
"S&Man" (2006)
Directed by JT Petty
Released by Magnet Releasing
It's hard to believe that Petty's 2008 sophomore feature "The Burrowers" arrived on DVD before the 2006 documentary that originally got the director all the attention, focusing on the world of fetish and fake snuff films and their connection to modern horror films.
"White on Rice" (2010)
Directed by Dave Boyle
Released by Indieblitz Releasing
Boyle's film puts a new twist on the arrested development comedy, setting its tale of a lovable loser in a Japanese American family struggling to deal with the arrival of 40-year-old manchild Jimmy, fresh from Tokyo and freshly divorced.
Appearing on Blu-ray for the first time: Franco Zeffirelli's "Callas Forever," "The Hangover: Extreme Edition," "Sex & Lucia," "Three Kings"
[Additional photos: "Four Boxes," E1 Entertainment, 2009; "The Lost Boys: The Thirst," Warner Bros., 2010]