Harvey Keitel, Not Nicholas Cage, Is The 'Bad Lieutenant'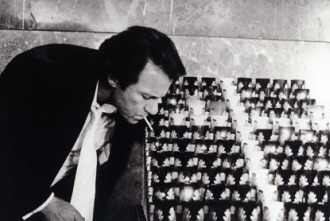 Posted by Melissa Locker on
Abel Ferrara's 1992 cult film, Bad Lieutenant, is a bleak, dismal, and punishingly grim film. In a good way. The New York City of Ferrara's movie is filled with all of the venial and most of the deadly sins. Harvey Keitel delivers a showstopping performance as a brutal corrupt cop so dirty he has started disgusting even himself. His investigation of the rape of a nun brings him face-to-face with his longing for redemption.
It's not hard to guess why director Werner Herzog wanted to re-visit the world of Bad Lieutenant. He has documented his love of the darkly strange in many of his films, including Grizzly Man. The combination of religion, good and evil, cops and robbers is a compelling canvas, but Herzog's 2009 version of Bad Lieutenant is not a classic remake, but rather a complete re-envisioning. His broken hero is Terence McDonagh, a dirty cop, operating in post-Katrina New Orleans. Like Keitel's character, Nicholas Cage is knee-deep in a life of drugs, hookers and fighting the crimes he's not committing. While Nicholas Cage delivers one of his best performances in years, his squalid cop falls far short of Harvey Keitel's version. If there can be only one Bad Lieutenant, Keitel owns the role.
Tune in to Bad Lieutenant tonight at 10:25 p.m. ET.
Don't believe us? Watch the trailer for Bad Lieutenant: Port of Call New Orleans:
And here is the trailer for the original Bad Lieutenant: