"Glee" Photoshoot For GQ Decried By Parental Watchdog Group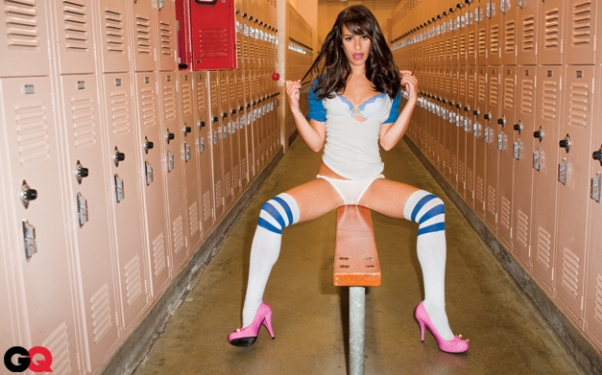 Posted by Brandon Kim on
Normally I try to avoid discussing "Glee" or even acknowledging the show exists, as part of a general disdain for anything that combines a high-school setting within a musical genre. They're so saccharin and vapid, so prurient. So perhaps fittingly, it is only with the most base thing possible that I crack — a pornographic photo controversy.
They're not really porn, but the "Glee" photos featured in GQ are pushing some boundaries and clearly pushing the Parents Television Council's buttons. "It is disturbing that GQ, which is explicitly written for adult men, is sexualizing the actresses who play high school-aged characters on 'Glee' in this way," said the watchdog group's President, Tim Winter. "It borders on pedophilia. Sadly, this is just the latest example of the overt sexualization of young girls in entertainment."
Thing is, these young "girls" are no where near bordering on pedophilia. They're 24 years old. Lea Michele from the cast of "Glee," featured in one of the GQ photos, is sitting rather inappropriately in her American Apparel-come-Frederick's of Hollywood get up, but I've seen worse (or better) in very public ads of both companies. Personally, the photos do nothing for me, and as a guy, don't make me want to watch the show any more than before. In fact, this photo is disturbingly reminiscent of a man I saw on the L train last week that I'd like to forget about.
GQ's curt retort was, "The Parents Television Council must not be watching much TV these days and should learn to divide reality from fantasy. As often happens in Hollywood, these 'kids' are in their twenties. Cory Montieth's almost 30! I think they're old enough to do what they want."
The photos may garner some readers for GQ but they sure won't help gather a male audience for the show, which Deadline reports will be airing after the Super Bowl in January. The channels won't change fast enough.