Frederick Wiseman's Bout With "Boxing Gym"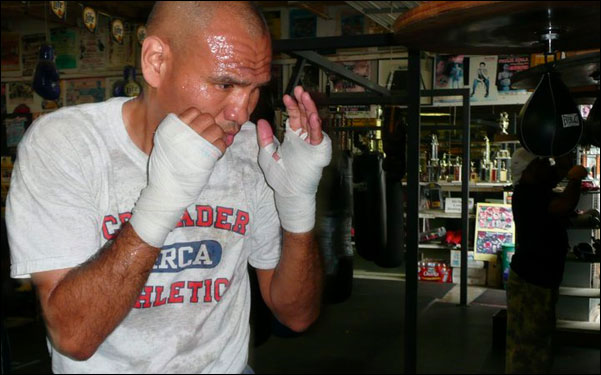 Posted by Bilge Ebiri on
Like all of Frederick Wiseman's films, his latest has a title that seems to say it all: "Boxing Gym" is basically an hour-and-a-half of sights and sounds from an Austin area boxing gym. As usual, though, there's more going on here. In presenting glimpses of different trainees – be they kids enjoying a fun sport, ordinary folks getting a workout, or actual fighters preparing for their next bout – "Boxing Gym" takes on a meditative quality, but that mesmerizing quality is eventually breached when the real-life violence of the Virginia Tech massacre thousands of miles away intrudes on the boxers' world and becomes a point of discussion.
The legendary director, whose films include such classics as "Titicut Follies," "High School," and "Public Housing," has made the exploration of the nature of American institutions his great artistic project, and the boxing gym is a manifestation of one way violence presents itself in ordinary American life, so when the news of a different kind of violence, both anathema and analog to some of the issues raised in the film, gives the film an additional, haunting dimension.
That description perhaps makes Boxing Gym sound like an ironic – maybe even condescending – critique, but Wiseman's filmmaking has always been deceptively complex. As the director himself admits, he's a big fan of boxing, and what shines through in his new film is a characteristic combination of incisive observation, visual poetry, and a very cinematic brand of humanity. Wiseman recently took the time to chat with us about his amazing new film, and how it fits into his work.
Why a boxing gym?
I've always been interested in boxing. I've watched a lot of fights. In the '70s, I used to go to Boston Garden and they'd broadcast big fights, like the Ali-Frazier fight, on 12 by 15 screens. It was like being at ringside. And I boxed a little bit – took some lessons when I was a kid. Quite aside from that, I'm also interested in the subject of violence, which cuts across a lot of my films, and boxing is a ritualized form of violence. Films like "Titicut Follies" and "Juvenile Court" show the state punishing people who've created violent acts, and films like "Basic Training" and "Maneuver" are illustrations of the state's monopoly on violence. And "Domestic Violence" speaks for itself, obviously. Also, there's a connection between the boxing movie and the two ballet movies I've made – in "La Danse," the woman who runs the Paris Opera Ballet says at one point that a dancer is like a boxer. The similarity is obviously the need to control the body — in both cases, they have to train a long time and have complete control over their legs and their arms and their head and torso.
There's also a resonance with previous films like "Essene," which was set amongst a small community of monks, in the way that the characters are aspiring to an idealized version of themselves. Everybody aspires to be like the guys on the walls – the posters that totally cover the walls of the gym.
I think that's a good point. It's related to "Essene" and thematically related to "The Iceman Cometh," in the sense that a lot of the boxers are always talking about tomorrow. And those posters, in one sense, represent the dream. They were marvelous, all those posters – some new, some fraying, some dirty, some old. And they became thematically relevant. They're of boxers who had some form of success. And that marvelously run-down, seedy look of the gym became a character in the film. It's a two-million-dollar set that you fall into. Lord's Gym is the only gym I looked at for the film – I got there and I immediately saw that it was film material. It looked right, and I liked Richard Lord a lot. He's a very nice man and an extremely good teacher and a smart handler of people. He talks to everybody in exactly the same way – whether they're doctors and lawyers or illegal immigrants.
Because this is a gym, with different people constantly coming in and out, the editing must have presented some structural challenges. You're less focused on process, unlike with something like "State Legislature."
It definitely presented a different set of issues. It was interesting – the film is composed of a lot of very short shots. "State Legislature" is sort of the other extreme – that's a movie dependent on talk. This is a movie that's very dependent on action. In fact, one of the reasons I made it was because I was coming off of "State Legislature" – even though it's being released after "La Danse," I actually shot it before. I deliberately wanted to do a more action-oriented subject.
How did that affect editing the film?
I enjoyed the editing a lot, because of all the problems associated with finding the appropriate rhythm, establishing a relationship between the sound and the action. The sound was complicated, but it was fun to do. The time clock, the sound of the gloves hitting the body or hitting the leather – that's the music of the film, its rhythm. I joked to somebody the other day that it's a Philip Glass score. It was interesting to me to try and cut the movie to the sounds of the gym. It's not often you have that kind of opportunity. I had to decide when to use the sound of the clock, when not to use the sound of the clock, the relationship of the movements made by feet to the sound of the clock.