Five Lessons We Hope "Paranormal Activity 2" Learned From "Blair Witch 2"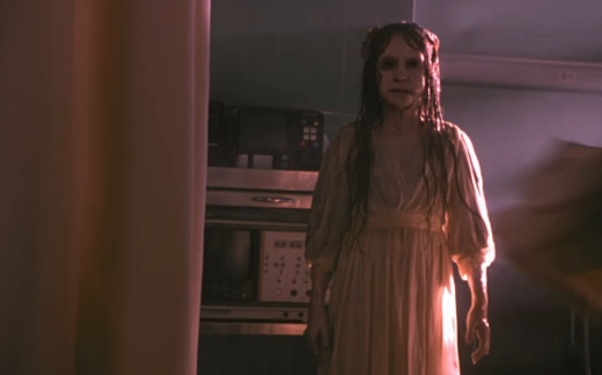 Posted by Matt Singer on
When "Paranormal Activity" came out last year it was hard not to think about "The Blair Witch Project": two heavily improvised, found footage horror films shot independently on shoestring budgets that became enormously profitable hits thanks to ingenious internet marketing campaigns. So with "Paranormal Activity 2" opening this week, it's hard not to think about "Book of Shadows: Blair Witch 2," which, like "Paranormal Activity 2," was rushed into production to capitalize on its predecessor's surprising success and made by a different creative team than the original film.
Based on the "Paranormal 2" trailers it's clear they've already avoided a few of the pitfalls of "Blair Witch 2," most notably maintaining the original's docsploitation visual style instead of shifting to a more conventionally shot fiction film. But Paramount has kept a tight lid on just about everything else. Having enjoyed both "The Blair Witch Project" and the first "Paranormal Activity," and having suffered through "Blair Witch 2," here's five lessons I hope "Paranormal 2" writer Michael R. Perry and director Tod Williams learned from that unholy mess.

Lesson #1: Don't Make a Movie About Weirdos
"The Blair Witch Project" was an ingeniously simple movie: the supposed documentary footage of a crew of student filmmakers who went missing investigating a legendary witch and were never heard from again. Heather (Heather Donahue), Mike (Michael C. Williams), and Josh (Joshua Leonard) might have come unglued by the end of the film but they weren't psychopaths: they were ordinary people trapped in extraordinary circumstances. But the scenes everyone remembered were the ones where they looked kind of crazy, like Heather, boogers dripping from her nose, apologizing to Josh and Mike's moms with her face millimeters from the camera lens.
At some point, someone decided this was what people wanted from a "Blair Witch" sequel: people acting bananas. So instead of three college kids, "Book of Shadows" follows a former mental patient ("Burn Notice"'s Jeffrey Donovan), a witch who speaks to ghosts (Erica Leerhsen), and a goth chick with vaguely defined psychic abilities (Kim Director), plus a couple (Tristine Skyler and Stephen Barker Turner) too dumb to survive in normal society (who brings the only copy of their manuscript on a camping trip to the haunted woods?). The keys to "Blair Witch" were believability and relatability, being able to accept that the events of the film could have happened, and that if placed in a similar situation, we in the audience might have done the same. Unless you happen to be a psychic witch, neither is true of "Book of Shadows."
Lesson #2: Don't Let the Characters Know About The First Movie
The title card that opens "Book of Shadows" reads "The following is a fictionalized re-enactment of events that occurred after the release of 'The Blair Witch Project.'" And all the nutters in the film make their way to Burkittsville, Maryland to take part in a tour of the film's shooting locations. That dumb couple is looking for evidence for their book, the witch wants to prove that witches are nice people, the mental patient is looking to profit from the "Blair Witch" craze. They all say things like "Newsflash everybody! That was just a movie!" but eventually they all get possessed, think they're having sex with each other, imagine they're being tormented by little children wearing eye shadow, etc.
Here's why this is a problem: it makes the characters idiots. Because if they know the movie, then they have to know the movie is fake. If there was a real documentary that featured kids actually dying at the hands of some kind of supernatural presence (or even just an old hill country hag) it would set off a media firestorm, an FBI investigation, and get the entire state of Maryland quarantined. But if that was the case, you wouldn't have much of a horror sequel. "Paranormal 2" trailers suggest the film is about relatives of the characters of the first, which is a good sign. But if they happen to find the footage from "Paranormal 1″…
Lesson #3: Don't Make a Generic Horror Movie and Call It A Sequel
The worst part about "Book of Shadows" is that the references to the first "Blair Witch" are essentially window dressing for what is otherwise a very generic horror movie. After the first half hour in the woods, it's basically just a bunch of obnoxious people hallucinating and yelling at each other in a dumpy loft. It would not surprise me in the slightest to learn that "Book of Shadows" began its life as an unrelated screenplay about hallucinating tourists that some producers found and sprinkled a few Blair Witch references on. Because that's what it feels like. "The Blair Witch Project" was scary because it didn't look like a scary movie. "Blair Witch 2" isn't scary because it looks like every scary movie.
Lesson #4: Don't Let Your Think Pieces Go To Your Head
Again, "Blair Witch" was a simple film. But it was so rigorously designed, and was such an interesting mix of objective (since we only see what the camera sees) and subjective perspectives (since we only see what Heather, Mike, and Josh's cameras see) that it produced a lot of interesting writing about its take on mediated reality, point of view, and the thin line between documentary and fiction. But none of that was commented upon in the film, that was what people read into it.
Well, there was no need to read anything into "Book of Shadows," because it conveniently spelled it all out for the viewer. "If people believe something, isn't it real? Perception is reality!" a characters points out during one of the many arguments about whether "The Blair Witch Project" is real or not. The First "Blair Witch" was a phenomenon. You know how not to recreate a phenomenon? By deconstructing that phenomenon onscreen during lengthy philosophical arguments.
Lesson #5: No Evil Owls
This one speaks for itself.