Stephin Merritt Talks About His "Strange Powers"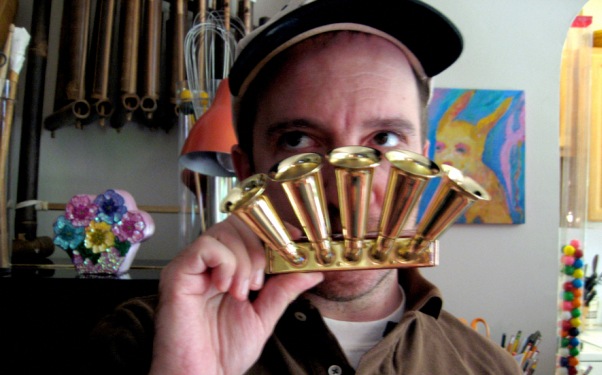 Posted by Brandon Kim on
"Strange Powers" chronicles the quirks and songwriting habits of one of the great songwriters of this generation, the elusive Stephin Merritt. Over a decade in the making, the documentary from directors Kerthy Fix and Gail O'Hara is a fascinating look at a very private man, known for his aversion to the press and fame. Merritt spends his days writing songs in gay bars that are at once catchy and somber. Many of them are so oddly familiar you can't believe they're original, but that's Merritt tapping into a kind of musical Cosmogonic Cycle, harnessing some simple melody shared in our subconscious.
For all his gifts, Merritt does not suffer fools. He's honed a reputation for a sharp tongue and a blatant disdain for answering stupid questions from neophyte interviewers, which is painful to behold. Author Neil Gaiman says of him that, "He made Lou Reed look like Little Orphan Annie." You couldn't dream up a scene more hilariously awkward than Merritt opposite a back-slapping automaton on a FOX morning show, which "Strange Powers" thankfully provides some context for. When musician Bob Mould was prodded about a writer labeling him the "the most depressed man in rock," he responded by saying "He's never met Stephin Merritt."
I had a brief exchange with Merritt in anticipation of the film's release during which I inquired about a few things it raised, such as his father — pop/folk singer Scott Fagan, whom he's never met. We also covered some things not raised by the film such as his true love: Hawaiian lounge extraordinaire Martin Denny, the "father of exotica."
Let's set the stage: "It was raining broken glass in the forgotten part of town." Where are you, what are you doing?
I read that line from a very old notebook, and it was presumably a dummy lyric, intended only to jog my memory of a melody, now long forgotten and unjoggable. It sounds like a parody of a 70s Bruce Springsteen lyric. Or, listen! You can almost hear Peter Murphy singing it. It has come to sound like a World Trade Center reference, but the notebook is much older than that.
What film would you inhabit/live in, if you could?
I want to live in "L'il Abner." Instead, I live in "Carnival of Souls," and that's okay too.
You say in "Strange Powers" when mentioning your Father and his island influenced pop rock, that your music is not at all island influenced — which I first nodded along too of course, before thinking about your penchant for Ukulele's. I don't like The Doors much, for example, because somewhere in there all that organ sounds like a scary carnival to me, but one of the things I love about your music is that somewhere in there, sometimes, there's a touch of "island."
When you've lived in "Carnival of Souls" for a few decades you get used to the crazy carnival. "Island" refers to the Caribbean, not islands in general. England, Manhattan and New Zealand are islands too. That said, I have enjoyed a great deal of music made in Hawaii, not least the Creatures album, "Feast." And of course, I love Martin Denny more than life itself — much more.
I'm fascinated that you seem to have inherited your father's musical proclivities and talent (and exceeded them) without even being directly influenced by him. Have you ever wondered what kind of music you could make together?
Not really, no. Would you write even better articles if only you had your parents' help?
Fair enough! — Your top 100 music list received criticism [and claims of racism] for not including many black artists. If you rewrote it today what would change, if anything?
I should mention that it wasn't a top 100 list, just a list of 100 pieces of music I liked, one from each year of the 20th century. And I haven't seen that list in years, so I don't know what I'd change, but it actually includes plenty of black artists, so that wouldn't be among my changes.
What are you listening to now?
Right now I'm listening to the Okko album "Sitar & Electronics." Oops, it's over. Got to go put something else on. Choosing between ESG and Pauline Oliveros…
"Strange Powers" opens today (October 27th) in New York at the Film Forum, and in LA on November 5th at the Laemmle Sunset 5, with a national release to follow.