Edgar Ramírez Gets To Know "Carlos"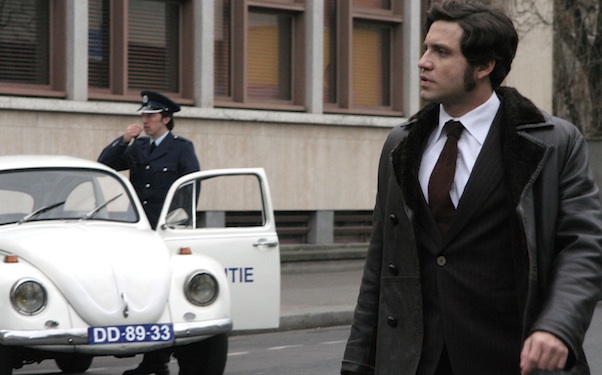 Posted by Matt Singer on
Edgar Ramírez surprised me. At the beginning of our interview, I asked him what the most challenging aspect was of playing Ilich Ramírez Sánchez — a.k.a. the infamous terrorist Carlos the Jackal — in director Olivier Assayas new three-part, five-and-a-half hour mini-series "Carlos." Given the massive scale of this project, I figured he would have no shortage of logistical problems to choose from: speaking in five different languages for the role, shooting in half a dozen countries, recreating massive terrorist operations including bombings and airplane hijackings on a less-than-blockbuster budget, or gaining a De Niro-esque amount of weight to portray the Carlos of his later years.
Ramírez mentioned none of those things. Instead, the most difficult part for him was wrapping his head around the character's morality: his masochism, misogyny, and especially, his willingness to kill people for a political cause. "For me," he said, "no ideological or political conviction would justify the sacrifice of a human life.  For me, the value of life is absolute, with no concessions.  It's not negotiable.  But for this character, and a lot of the characters in this movie, it's different.  You can negotiate with life.  And there's sort of a taxonomy of the value of life: some lives are worth less and some lives are worth more.  And I had to struggle with that idea."
Ramírez's answer speaks to his approach to the character and to Assayas' approach to the film as a whole, which is not to valorize or criminalize Carlos, but to try to understand what motivates a person like him to take the actions he took. Their success at getting under the man's skin, unlocking his secrets, is what makes "Carlos" such a fascinating movie (or miniseries; though Ramírez calls them both "movies"). After talking about those challenges, I asked Ramírez about the trend toward longer biopics, why putting on weight for a role is less fun than it sounds, and what it felt like to get a letter from the real Carlos.
How did you get involved in the project?
The script was sent to me. The first thing I thought was "A script about Carlos the Jackal?  Oh my God."  Although I didn't know much about him, I know that this type of character in the wrong hands could be a disaster, a caricature about "The Jackal," especially with the prior presence of this character in movies.  And then when I found out it was Olivier Assayas behind it, I read the script and I loved it.
I saw the five and a half hour mini-series version of "Carlos." But there's also a two and a half hour "theatrical version." Do you have a preference between the two?
No, I think they're just two different movies.  And both are interesting and I think that both stand on their own.  After seven months of work and all of energy invested in the movie, I hope that people, if they have the chance, look at the whole tryptic. But the movie version's great!  I mean, both are movies.  But one is super-long and the other is just long.  [laughs]
The most common complaint about biopics is that they take the entire scope of a life and cram "the greatest hits" into 100 minutes. But between "Carlos," and "Mesrine" and "Che," which you also appeared in, there seems to be this trend emerging of longer, more thorough biographical films. Do you think it's a coincidence or is it a reaction to that sort of criticism?
I'm not really sure.  One the one hand, I think it is a bit of a coincidence.  On the other hand, to talk about a character like Che or a character like Carlos, you have to talk about a time in history.  You can't just talk about the character, you need to somehow go deeper into the historical and political context these characters lived in.  And that requires time. 
The thing that particularly interested me about Carlos was the fact that this terrorist's life, and the journey he went on, was like the journey of a great artist, or director, or actor–
Or rock star.
Or rock star, exactly. He begins as this man who's doing these things out of passion and a need to express himself, and at a certain point it becomes about the money and the power.
I think that's why the movie speaks so directly to so many people. It's a very universal story about the struggle between idealism and individualism, between the will to change the world and the obsession for fame, recognition and a place in history. And all of that laced with power, fear, money, drugs, alcohol, sex, love, which are all elements that speak to all of us.
So I was reading a story about the real Carlos writing a letter about the film. Did he write it to you or to Olivier?
He wrote a letter to me. 
Did you receive it personally?
It was published in one of the most widely read newspapers in France on the day of the premiere at Cannes.
What was that like?  In the movie, we see Carlos writing letters, making phone calls.  Typically, these are not communications you want to be on the receiving end of.
It didn't catch us by surprise.  We knew that he would react.  And he did it in the most narcissistic and spectacular way possible. And after portraying this character, I thought "That is something that this character would have done." Which I respect! We're telling a story that is based on the events of his life.  But it was never intended to be a biography.  Some of these events are proven, some of these events are loosely proven, and so forth.  And of course, for a guy with such strong opinions, you had to expect him to come out and say something.
You undergo such an amazing physical transformation to portray Carlos aging and gaining weight. And I'm sure you get a lot of questions about how you did it. But isn't that obvious? You eat a lot of crap and stop exercising. It seems easy.
Yeah, it is very easy.  But it's not as fun as you would think. Because when you're forced to do things, it's not fun anymore.  You have to eat all the time.  And sometimes you just really pray for a light salad.  And I couldn't have a salad.
So perversely, this is like a great dieting secret.  Force feed yourself until you hate food.
Of course.  And that's why the extra weight I put on for the film, I lost really quickly.  It didn't last as long as I thought it would.  Up until the last like six kilos [about 13 pounds], which were harder to lose.
I guess you can't wear a beret out in public anymore.
Actually, we took a charter plane back from the Telluride Film Festival. And I was one of the last people to get on the plane. And when I was walking to my seat, everyone looked really scared. It was a funny moment. So I said, "Okay, we're about land in Algiers, you all need to lower your window shades!"
"Carlos" premieres tonight at 9pm on Sundance Channel, and opens in both five-and-a-half and two-and-a-half hour versions in theaters on Friday.